NI ambulance crew shortage: Second ROI ambulance crew drafted in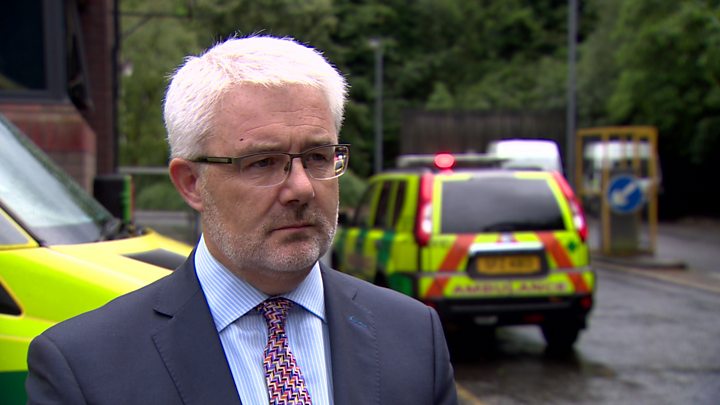 An ambulance crew from the Republic of Ireland has helped with staff shortages at the Northern Ireland Ambulance Service (NIAS) for a second night.
The crew was based at Altnagelvin Hospital in Londonderry on Saturday.
On Friday night, a separate crew from the Republic was based at Newry ambulance station.
An NIAS spokesman said it was 10 crews short on Saturday night, but many staff members who were off had come in.
He said they were working partial shifts through the busiest period.
In addition, eight private and voluntary ambulances were dealing with non life-threatening cases.
The NIAS had appealed for staff to come to work over the weekend over difficulties filling rotas.
Internal correspondence, seen by the BBC, said NIAS advised health trusts of possible delays in response times for "less urgent" cases.
It asked for assistance from the Republic of Ireland, among other extra measures.
There is an understanding between the ambulance services on both sides of the border that they will help each other out in special circumstances.
NIAS chief executive Michael Bloomfield said they were down 14 crews out of 52 on Friday night.
"That's substantial, that's over a quarter," he said.
"I've been advised that last night there were no significant issues of concern to report, but people will have waited longer and I apologise for that."
He warned of the potential for further delays over the weekend.
Sources have claimed NIAS is at "crisis point", with the Southern Health Trust area particularly affected.
Mr Bloomfield said the NIAS faced a similar situation on Saturday night, but was working to address it by continuing to identify people who were willing to come in.
Conor McCarthy, from the health union Unison, said ambulance crews were dealing with very difficult circumstances.
"What's compounding the problem is the fact that there are over 300 vacancies in the ambulance service in the region, ranging from paramedic staff to control room staff," he said.
"What happened here over the weekend is nothing new. It's happened in the past and it'll happen again."
'Cross-border request'
The internal ambulance service memo stated that the service has been "unable to completely fill our staffing rosters for various reasons".
It said this would impact on ambulance provision, particularly during night shifts on Friday, Saturday and Sunday.
NIAS management has advised the Helicopter Emergency Medical Service (HEMS) that it "may need to utilise their resources under strict conditions" and has called in operational managers to provide extra support.
An NIAS spokesman said the air ambulance is not a separate entity from NIAS.
"The HEMS Service is provided in partnership with the Charity Air Ambulance who provide the helicopter and pilot through their Charitable Fundraising and NIAS provides the operational staff (Paramedics and Doctors).
"The HEMS Service (air ambulance) is part of our response capability."
The memo also says NIAS has "sought assistance" from the Republic of Ireland's National Ambulance Service (NAS) in the Southern Trust and Western Trust areas.
The BBC understands that this is a highly unusual move.
It also said NIAS will provide food and refreshments for ambulance crews and control staff throughout the weekend.