Wrightbus: Management apologises over media 'leak'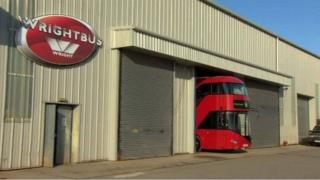 Managers at a Ballymena-based bus manufacturer have apologised to workers after it emerged in the media that the company was seeking a new investor.
On Tuesday, Wrightbus confirmed it hoped a new investor would resolve its cashflow problems.
At a workforce meeting on Wednesday, management apologised saying the news had been "leaked" to the media.
Wrightbus employs about 1,400 staff in Northern Ireland.
In a recording heard by BBC News NI, the meeting was told it had not been the company's intention for workers to find out about the plan through the media.
Managers told the employees that Wrightbus was working with the union to "ensure that the employees best interests continue to be at the forefront of our decision making".
'Assistance and patience'
They added: "The company continues to win new business.
"We would continue to ask everyone for their assistance and patience as the company navigates through this difficult time and into the next stage of engagements with investors."
The Unite union, which represents workers in Wrightbus, said it had "meaningful discussions" with the company on Wednesday.
In a statement, it said they would work with the manufacturer to "ensure the long-term viability of Wrightbus as an independent manufacturer in Northern Ireland, and to future-proof our members' jobs".
The statement added that the meeting did not include any mention of redundancies.
The DUP MP Ian Paisley has said he will ask the government to "make a major intervention".
He added that he previously raised the issue with Boris Johnson, before he became prime minister.
"I'm looking at something that would need to have a government response within a fortnight, if not sooner, and I certainly hope someone in government will hear those concerns and respond to them," said Mr Paisley.
Latest accounts show Wrightbus made a pre-tax profit of about £5m on turnover of more than £181m in 2017.
But its financial situation has deteriorated since then.
It made two rounds of redundancies last year with 95 jobs going in February and June - which it said reflected continued low levels of demand for new buses in the UK market.
In a statement issued on Tuesday, Wrightbus said it was working with financial advisors to find potential investors.
It said new investors would "ensure that the skills and talents of our Ballymena workforce continue to deliver cutting-edge transport vehicles".