Game of Thrones score by NI's Hannah Peel up for Emmy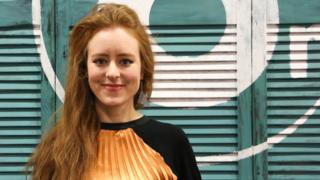 Northern Ireland musician Hannah Peel has been nominated for an Emmy award.
Her soundtrack for HBO's Games of Thrones: The Last Watch features in the category for outstanding music composition for a documentary series.
Speaking to BBC Radio Ulster's Evening Extra programme, Peel, who was born in Craigavon, County Armagh, described the nomination as "a fantastic honour".
However, she stressed that others who worked on the composition also deserved credit.
'Beautiful team effort'
"It's not a sole job," she said.
"I'm scoring to the dream of the director. It's her story that I'm trying to tell and express, and then you've got sound and mixing and everything else that goes on top of it.
"It's a beautiful team effort."
Peel has previously won a Royal Television Society award for her title music to the Channel 4 drama, Dates.
As well as releasing solo albums, she has written music for television, film and theatre productions.
HBO said its documentary, Game of Thrones: The Last Watch, "delves deep into the mud and blood to reveal the tears and triumphs involved in the challenge of bringing the fantasy world of Westeros to life in the very real studios, fields and car parks of Northern Ireland".
Peel explained that the music involved "finding a balance between telling the story of behind-the-scenes [filming], the weather, the emotional journeys, the challenges that people go through when they're doing 60-odd night shoots in a row in the wind and the rain of Northern Ireland… finding a balance between that and the fantasy world".
Although born in Northern Ireland, Peel spent much of her early life in Yorkshire as her family moved to Barnsley when she was a child.
'Questioning identity'
She told the BBC that growing up in two very different environments made her at times question her identity, and that fantasy programmes like Game of Thrones have appealed to her as a result.
"Coming back and forth from Northern Ireland to Yorkshire, you don't realise as a kid that you're questioning your identity and your accent and where you're from and constantly trying to find your place, so being absorbed into these other worlds has always been a massive draw for me."
Although she now speaks with a Yorkshire accent, she insisted that she holds a "soft spot" for the buildings and structures of Craigavon.
"I love concrete and Brutalist structures and the idea of new planning!" she said.
Peel released her latest album, Chalk Hill Blue, with the English poet Will Burns in March.
Last year, she arranged strings and woodwind for Paul Weller's album True Meanings.
The full list of nominations for this year's Emmys was revealed on Tuesday, with Game of Thrones featuring in 32 categories.
The awards ceremony will take place in Los Angeles on 22 September.