Stormont deadlock: Plan to fast-track NI bill 'blocking progress'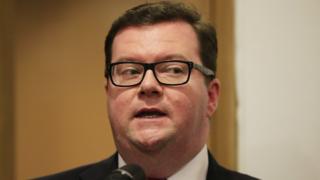 Northern Ireland's Electoral Commission has joined criticism of the government's plan to fast-track a bill through Westminster to delay the need to hold another NI Assembly election.
It said it was "very concerned" at the move and that it was a "serious step to continually defer elections".
Parliament must ensure voters' rights are "properly considered", it added.
Labour MP Conor McGinn had warned the government not to "underestimate the level of dissatisfaction" at the move.
On Thursday, the government published a bill that will push back the prospect of a Stormont election until 21 October.
It contains a provision that could allow a further extension to January 2020.
One-off extension
It was a "sensible contingency plan", said the Northern Ireland Office (NIO).
The provision, originally contained in an act that became law last November, was previously due to expire in March.
But the law gave Northern Ireland Secretary Karen Bradley the ability to order a one-off extension, which ends on 25 August.
The Northern Ireland Office (NIO) now wants the Northern Ireland (Executive Formation and Exercise of Functions) Bill to be brought through all stages of the Commons on Monday.
The legislation was briefly presented in the Commons on Thursday.
If approved by Parliament, it would extend the date for calling another assembly election to 21 October 2019, with a provisional further extension to 13 January 2020.
It also gives civil servants greater clarity around decision-making for Northern Ireland in the absence of devolved government.
Mrs Bradley described it as a "contingency plan", given that Parliament is due to rise for summer recess on 25 July.
"This bill is necessary to ensure good governance and the continuation of public services in the event that the parties cannot come to an agreement before 25 August," she said.
"We should all encourage the parties to ensure it is not needed by restoring the executive in the coming weeks."
'Do the right thing'
A cross-party group of MPs has said it plans to table an amendment to the bill in an attempt to legalise same-sex marriage in Northern Ireland.
But given the short timescale for the bill to be scrutinised and pass through the Commons, Mr McGinn, who is originally from County Armagh, said it was a "pretty transparent and poor attempt to stifle scrutiny and block any progress" on issues like same-sex marriage and abortion laws.
Speaking in the Commons, he urged the government to "do the right thing" and allow more time for scrutiny of the bill.
Speaker John Bercow said there were ways in which MPs could still potentially table amendments to be accepted ahead of the debate next week, telling Mr McGinn: "There is help at hand."
The Irish government, which is co-chairing talks to restore power-sharing in Northern Ireland, said it noted the move by the UK government, adding that it "underlines the seriousness of the absence of the devolved institutions in Northern Ireland".
Talks lull
Stormont's political parties have been engaged in the latest talks process for more than nine weeks now, although they are not nearing an agreement.
Northern Ireland has been without a devolved power-sharing government for more than two and a half years, after the Democratic Unionist Party (DUP) and Sinn Féin split in a bitter row.
The late Martin McGuiness resigned as Northern Ireland's deputy first minister in January 2017 in protest at the handling of a botched green energy scheme, which officials now say could cost taxpayers up to £700m, though that figure is disputed.
There have already been several failed talks processes.
On Wednesday, Sinn Féin's Conor Murphy said that in his party's view the latest talks have "effectively been stalled" to facilitate the Twelfth of July parades.
The DUP rejected that and accused Sinn Féin of a lack of engagement.
Orange Order Twelfth of July parades take place across Northern Ireland to make the anniversary of the Battle of the Boyne.