Denis Donaldson: Man to be charged with MI5 agent's murder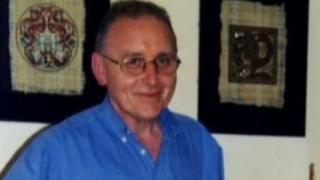 A man is to be charged with the murder of MI5 agent Denis Donaldson, according to Irish police.
Mr Donaldson, 55, was shot in 2006 at a remote cottage near Glenties in County Donegal, months after being exposed as a spy.
Dissident republican group the Real IRA claimed responsibility for his killing.
Irish police had submitted a "substantial" file on the murder to the director of public prosecutions in the Republic of Ireland two years ago.
News of the decision to charge a man emerged at Mr Donaldson's inquest in Letterkenny, County Donegal.
A police officer told the hearing a warrant has been issued for the arrest of the man to be charged.
The inquest into Mr Donaldson's death has now been adjourned for the 23rd time.
A lawyer, acting for the Garda (Irish police) Commissioner suggested a 12-month adjournment on Wednesday to allow criminal proceedings to progress.
In a statement, the Donaldson family said their "interest remains establishing the truth".
The family have previously said they were "dismayed" over continued delays to the inquest into his death and had urged Northern Ireland's police ombudsman to take legal action over access to material held by Gardaí (Irish police).