Lisa Gow: Driver jailed for killing mum-of-two in crash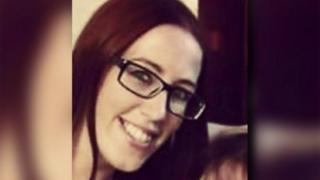 A man who knocked down and killed a mother-of-two while fleeing from police in a stolen car has been jailed for 11 years for causing her death.
Lisa Gow, 32, died after she was hit by a car in north Belfast in April 2018.
Earlier this month, Martin Alexander Nelson admitted causing her death by dangerous driving. He also admitted five other offences including burglary.
The 40-year-old, from Ardoyne Road, Belfast, had 242 previous convictions, 55 of which were motoring offences.
Pursued by police
Nelson appeared to fall asleep repeatedly during the sentence hearing at Belfast Crown Court.
Several times, he had to be roused by prison staff in the dock.
The court was shown video footage of the fatal crash on Ballysillan Road, which was taken from a police helicopter on the afternoon of 19 April, 2018.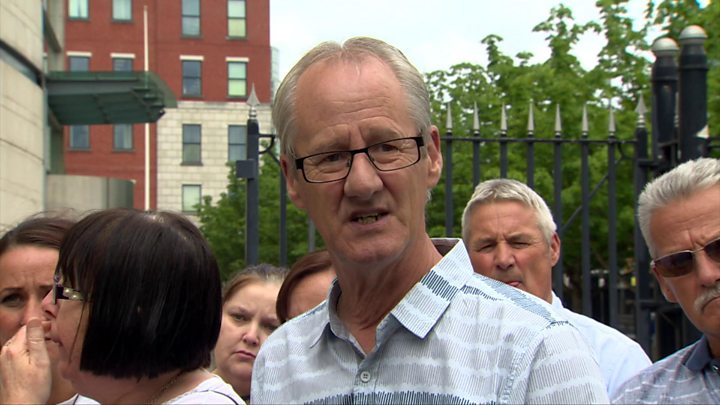 Nelson was being pursued by police at the time and officers had deployed sirens, flashing lights and a 'stinger' in a bid to make him stop the stolen car.
The footage showed Nelson driving at speeds of up to 117mph, weaving in and out of traffic and at times driving on the wrong side of the road.
He crashed into a van before spinning out of control and striking Ms Gow, killing her instantly.
The mother-of two had been walking along the road to collect her children from school.
Ms Gow's relatives left the public gallery while the eight-minute video was played.
'Living nightmare'
The judge told Nelson his actions had robbed a heartbroken family of a much-loved mother, daughter and sister.
In a statement prepared for the court, Lisa's father Peter Gow said: "Every day since Lisa died has been like living in a nightmare that doesn't end.
"The feeling is constant for us now, every second of every day - asleep, awake, day or night - the heaviness is always there, and most days even breathing hurts and it is a pain we have to live with for the rest of our lives."
Nelson had previously pleaded guilty to six offences that culminated in Ms Gow's death.
He admitted breaking into a house and stealing car keys, and returning to the same property two days later when he stole an Audi A4.
He then admitted driving the stolen car dangerously on various roads in north Belfast, before causing death by dangerous driving.
'Rot in hell'
The judge imposed a 15-year driving ban, saying it was "appropriate to protect the public".
He also ordered Nelson to serve a further three years on licence when he is released from prison.
As he was being led into custody, Ms Gow's mother, Agnes, told Nelson: "I hope you rot in hell."
Speaking outside court, she told reporters of the devastation he had caused.
"Our lives are never going to be the same, we're never going to be the happy family we were," she said.
"It's just ruined, destroyed. There's no happiness anymore."
Nelson had been out on bail for another offence when he killed Ms Gow, and her father questioned the decision to release him in April 2018.
Mr Gow also doubted Nelson's claims of remorse over his daughter's death.
"He was sleeping. His prison warden had to waken him up at least four times," he told reporters.
"The only remorse he had was he was sorry he got caught."
The victim's sister, Kerry-Ann Gow, said her young niece and nephew were "going to do a life sentence" without their mother.