Belfast council passes paramilitary flags motion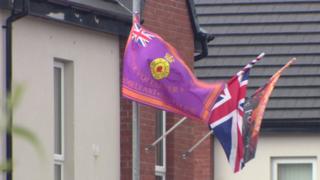 Belfast City Council has passed a motion to take legal action over flags being put up in parts of the city.
The Sinn Féin motion suggested the Department for Infrastructure be brought to court over its refusal to remove paramilitary flags and banners from lamp posts.
It comes after UVF flags appeared in the Cantrell Close area where they have previously caused controversy.
Unionists opposed the motion, but it passed backed by 34 councillors.
Eighteen voted against it.
The motion stated that the council was "alarmed at the increasing number of offensive displays of banners and paramilitary flags across Belfast".
"Paramilitary flags and banners supporting British regiments are being used to divide, offend and cause hurt to victims," it continued.
"Re-traumatising victims with offensive displays is wrong and should have no place in our society."
Last month, the Ministry of Defence spoke out against the unofficial flying of Army flags and emblems, after a number of Parachute Regiment flags and banners were put up.
The motion calls on councillors to back attempts to bring a legal challenge against the Department for Infrastructure which owns the lamp posts many of these flags and banners are attached to.
On his first day in the job, the new chief constable of the Police Service of Northern Ireland (PSNI) said that contentious flags and banners should be dealt "with a dose of common sense."
"For me, it's about understanding concerns and emotions in different communities where those things are evident," he said.
"Sometimes if a banner or flag is completely offensive, we may need to act differently in the moment, but broadly I think it's patience, it's about dialogue and acting with a dose of common sense, frankly, to deal with this issue."
'Protocols that protect citizens'
The new motion would, in theory, force the department "to remove all paramilitary flags… and all banners" adding "unless permission is granted by the Department for Infrastructure with protocols that protect citizens".
However, the BBC understands there are no specific plans in place yet as to how, or on what specific grounds, any legal case could be brought.
On Monday, the Department for Infrastructure said Cantrell Close had "not yet been adopted so it is not yet part of the public road network".
"As such, the department has no responsibility for flags in this area," the statement said.
Derry council making flags move
On Tuesday, Derry City and Strabane District Council's Sinn Féin representatives put forward a motion to back Belfast City Council in a committee hearing - it was approved nine votes to two.
A final vote is set for later this month at full council after an amendment to the motion was made by the SDLP.
The brother of a man shot dead on Bloody Sunday in Londonderry welcomed the motion and said all councils across Northern Ireland should adopt the same policy.
Mickey McKinney's call comes after Parachute Regiment flags and banners supporting army veteran Soldier F appeared in a number of towns and cities.
Mr McKinney, whose brother Willie was shot dead on Bloody Sunday, said: "We asked our solicitor to write to the PSNI and the councils because these banners and flags are offensive.
"I think it's outrageous that people go to these extremes to hurt people. I feel very angry."
In a further statement regarding the council's decision, they said they would "investigate complaints and take action if displays create road safety concerns.
"In line with current policy and as set out in the flags protocol, we will also take action to arrange for the removal of flags and banners where there is clear community support for their removal and where we are satisfied that removing them will not further raise community tensions or present risks to the safety of our staff and contractors.
"We work closely with colleagues in the PSNI in reaching such decisions."
The Belfast City Council motion is similar to one brought at Armagh, Banbridge and Craigavon Council last month - it passed narrowly but did not go as far as the Sinn Féin proposals in Belfast.
The Democratic Unionist Party on Belfast City Council said taking legal action against the department would be a "mistake".
Group leader George Dorrian said: "To try to force a government department to go down this way, we believe, will just heighten tensions and will serve to alienate a large section of the community."