PSNI chief constable: Simon Byrne begins top job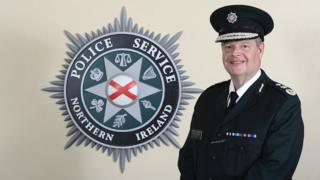 Simon Byrne has officially taken over as the chief constable of the Police Service of Northern Ireland (PSNI) on a five-year contract.
The 56-year-old was appointed after interviews were held five weeks ago.
At about 13:00 BST on Monday, he succeeded Sir George Hamilton and became the PSNI's fifth chief constable at a Policing Board event in Belfast.
It involved a short swearing-in ceremony in front of a justice of the peace.
"I said in my application that this was a unique service with unique challenges and I recognise that," said Mr Byrne.
"I am proud to be sat here with a list of things to do in front of me but, in terms of what's next, it would be remiss of me to be sat here in the shadow of the Belfast Giants and not use an ice hockey analogy.
"It's not where the puck is now, it's about where it's going next.
"My immediate plans are to get out and about across the service and communities of Northern Ireland to see for myself what's happening, how the organisation ticks and what's important to the communities that I'm going to police, before sitting down with the team to formulate more formal plans later across the summer."
Mr Byrne is arriving at a crucial time for the PSNI on several fronts.
One of his first calls will be whether to contest a court defeat over back pay involving 3,700 staff, which could cost the organisation £40m.
This month the Court of Appeal upheld a ruling that officers and civilian staff were owed money for a shortfall in pay going back 20 years.
Exonerated in bullying inquiry
The PSNI post marks a resumption of Mr Byrne's career, which stretches back more than 35 years.
His last contract, as chief constable of Cheshire Police, ended in June 2018 while he was fighting a disciplinary case involving complaints of bullying staff.
He was exonerated and a review found the investigation was "flawed" and based on "flimsy" allegations.
Mr Byrne had the most experience of the four applicants for the £207,000-a-year job, having held high ranks in the Metropolitan, Merseyside and Manchester police forces.
It is understood temporary accommodation arrangements have been made for him.
It is not a contractual requirement that the chief constable assumes full-time residency in Northern Ireland.
However, Mr Byrne tweeted on Monday morning that he looked forward to living "full time in Northern Ireland as an active member of the community".