Dunluce rescue: Police officer dives into sea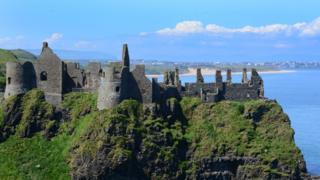 A police officer dived into the sea to help rescue a man who got into difficulty after cliff diving near Dunluce Castle, County Antrim.
He kept the man afloat until Royal National Lifeboat Institution (RNLI) crews arrived on Tuesday evening.
The man was taken to hospital but his condition is not believed to be serious.
Sgt Gareth Lavery said his instincts as a trained beach lifeguard had "kicked in" when he arrived at the scene.
"I could see clearly that the young man was in distress and floundering in the strong currents," he said.
"I assessed the scene and the risks involved and dived into the water.
"I swam out to him against the current and got hold of him and calmed him down."
Mr Lavery said "it was not possible or safe" to try to bring the man back to shore, "which was quite a distance away".
He added that he kept the man afloat until the RNLI arrived and "got us both on board their craft".
When the pair reached the shore, they were met by the ambulance service who took the man to hospital.
Ch Insp Ian Magee said he was "extremely proud" of Mr Lavery following the incident, which was reported at about 17:45 BST.
"Keeping people safe is at the core of policing and this is a prime example of this," he added.
A PSNI spokesperson said: "This is another example of good team work with our partner agencies."
The PSNI wished the man a "speedy recovery" and urged "everyone to treat our coastline and waters with caution".
Dawn Petrie, from Belfast Coastguard, said the police officer played a part in saving the man's life.