Derry musician and BBC broadcaster Eamon Friel dies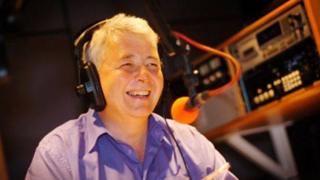 Londonderry singer/songwriter and BBC broadcaster Eamon Friel has died.
His family announced that he passed away on Friday morning after a short illness.
In recent years, he presented Songbook with Eamon Friel on BBC Radio Foyle and BBC Radio Ulster.
He first took to the BBC airwaves back in the 1980s presenting Friel's Fancy on Radio Foyle, in a broadcast career that spanned over 30 years.
The former teacher quickly gained a reputation for his in-depth knowledge of music and was recognised by his industry peers with a Sony award.
The singer/songwriter recorded a number of albums, including The Streets Forget, Here is the River and The Waltz of the Years.
'Absolutely adored'
Eamon's fellow colleagues in BBC Northern Ireland have paid tribute to the popular musician.
"Eamon was an accomplished and award-winning broadcaster, whose career with BBC Northern Ireland spanned more than 30 years," said Peter Johnston, director of BBC Northern Ireland.
"He was a musical curator with a unique breadth of knowledge and an infectious enthusiasm.
"His distinctive voice and style of broadcasting will be missed by his listeners and all of us at BBC Northern Ireland. We extend our deepest sympathy to his wife and family."
Larry Deeney, content editor of BBC Radio Foyle, echoed those sentiments: "As a musician and broadcaster, Eamon was absolutely adored by his audience.
"He was also a warm, knowledgeable, generous and witty colleague. There is a stunned silence in BBC Radio Foyle today."
There was also universal appreciation among his fellow broadcasters. Sean Coyle said: "Not only did I enjoy talking to Eamon about music, I also enjoyed our conversations about boxing.
"He was a great fan and we talked many times about the old champions."
Michael Bradley said: "I learned many things about music from my short time working with Eamon. He wore his knowledge lightly but the love of all kinds of popular music was always with him."
Mr Friel also wrote a musical comedy, The Music Makers, which was staged at The Playhouse in Derry in 2010.
Prior to his broadcasting career with the BBC, Mr Friel was also a History and English teacher for fifteen years.
He is survived by his wife Caitlín and their son Colum.