Holiday pay: Stephen Farry 'not second guessing' decision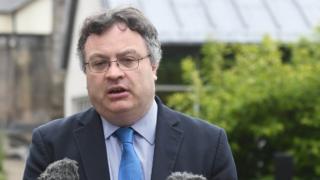 Former Employment Minister Stephen Farry says he stands over his decision not to introduce a cap to protect taxpayers from backdated pay claims.
The Department for Business, Energy and Industrial Strategy (BEIS) said it held detailed talks with its Stormont counterparts about the 2014 cap.
England and Wales had imposed a two-year limit on miscalculated pay claims.
Stormont did not follow suit, meaning public and private sector employers may face huge bills dating back 20 years.
The possible extent of the bill emerged when the Court of Appeal ruled that Police Service of Northern Ireland (PSNI) staff were owed money for a pay shortfall going back 20 years.
It has since been claimed that any employee who works overtime could be entitled to backdated holiday pay.
'Artificial cliff-edge'
Speaking to BBC Newsline, Mr Farry, who was employment and learning minister in 2014, insisted he acted honourably and with integrity.
"I made a political judgement as minister as to what is in the best interest in Northern Ireland in terms of employers and employees," he said.
He said imposing the cap would have been "counter-productive", and claimed if he had sought to introduce one, it could have caused an "artificial cliff-edge", leading to a spike of claims before the cap could take effect.
Mr Farry also denied suggestions that he had done anything wrong, adding that people who compared the holiday pay cap revelations to the RHI scandal are "totally and utterly off the wall".
Original ruling
Westminster changed regulations to reduce employers' liability with back pay following a landmark ruling in 2014, in which three employees of road maintenance firm Bear Scotland successfully argued that voluntary overtime pay should have been factored into their holiday pay.
The new laws stated that backdated holiday pay could not stretch back further than two years in England and Wales.
The cap did not apply in Northern Ireland as employment law is devolved and is the responsibility of Northern Ireland Executive ministers.
In a statement to the BBC's Nolan Show, which first revealed that many workers across public and private sectors could be entitled to a claim, a BEIS spokesperson said that the 2014 cap was "discussed in detail" with their counterparts in Stormont's now defunct Department for Employment and Learning (DEL).
'Negotiated settlements'
Mr Farry confirmed those discussions had taken place, but that when he engaged with stakeholders in NI about a cap, business organisations were supportive but trade unions and the Law Centre were opposed.
The Alliance MLA said his judgement was to allow "employers to address their own liabilities to their employees through negotiated settlements".
He added the issue was never taken to the executive because to do so would have been a decision to proceed with a consultation on imposing the cap.
Sinn Féin and the DUP, the two main power-sharing partners at the time the cap was being discussed, told BBC News NI the issue had not been brought to their attention.
A spokesperson for the Executive Office said it is "only right that departments take time to consider all these issues and establish the full facts before responding".
The chief constable of the PSNI said earlier this week his organisation was taking further legal advice after losing their legal challenge.
Mr Farry said it was important not to "jump to conclusions" about any possible financial implications, and cited the possibility of the PSNI appealing the court ruling.
He also addressed questions from BBC Newsline as to why he had not addressed the controversy sooner.
The Alliance deputy leader said he had been involved in talks to restore Stormont, and did not want to comment until he could make a "comprehensive statement" on the matter.