Ballymena: Firefighters leave JP Corry blaze site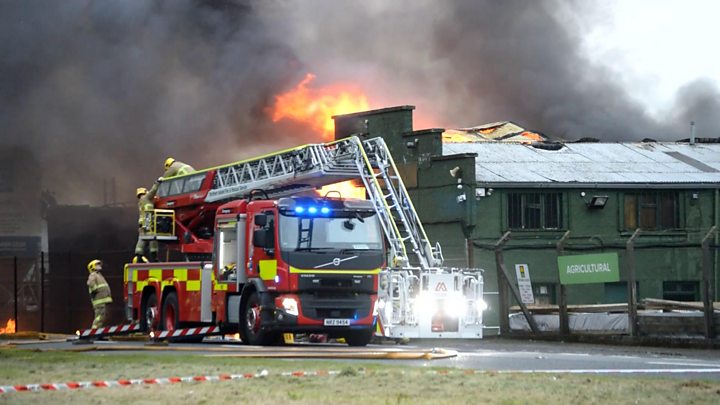 A fire that broke out close to a petrol station near Ballymena in County Antrim has been confirmed as accidental, the fire service has said.
Six fire trucks, an aerial appliance, a water tanker and 36 firefighters had attended the blaze at the JP Corry store on Crankill Road.
The fire started just after 18:30 BST on Sunday and was "well developed" by the time crews arrived.
The A26 southbound carriage, which had been closed, has now reopened.
A spokesman for JP Corry said seven staff have been redeployed to other branches.
He said the firm was now working to make the site safe.
He said it had plans to reopen, but there is no indication at this stage when that will be.
The mayor of Mid and East Antrim Borough Council Maureen Morrow said she was "deeply saddened by the scale of devastation caused by the fire".
The fire service was assisted at the scene by Northern Ireland Water, Northern Ireland Electricity and the Environment Agency.
On Sunday night, a fire service spokesperson said they had the blaze under control but were now assessing the structural integrity of the building.