Firearms seized in police operation on INLA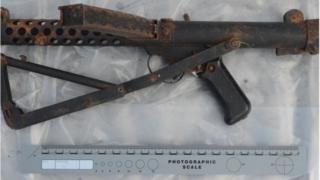 Three firearms have been seized in an investigation into criminality within republican paramilitary group the INLA, police have said.
The PSNI's Organised Crime Unit detectives, supported by local officers, carried out a major search operation in Londonderry on Tuesday.
About 7,000 illegal cigarettes and £13,000 in cash were also seized, along with other items.
Two men were arrested following the search.
A 43-year-old man has been released on bail pending further enquiries while a 44-year-old man has been released unconditionally.
Police say their enquiries are continuing.
The weapons seized were two assault rifles and one submachine gun, police said.
Seven searches were carried out under the Terrorism Act and police were supported by revenue and customs officers during the operation.
"As well as the weapons, a quantity of Class B drugs, counterfeit clothing and DVDs, approximately £13,000 in cash, phones, tablets, documentation, over 7,000 illicit cigarettes and a quantity of hand-rolling tobacco were also seized," police said.
Irish police carried out a search in County Donegal, and about 60,000 illicit cigarettes, a large quantity of tobacco, a large quantity of counterfeit clothing, DVDs and other items including money were seized.
"The INLA in Derry/Londonderry and Strabane claim to be the protectors of their community but the reality is that they use violence and intimidation to control and exploit those communities," said District Commander Supt Gordon McCalmont.