Further searches for Pat McCormick to take place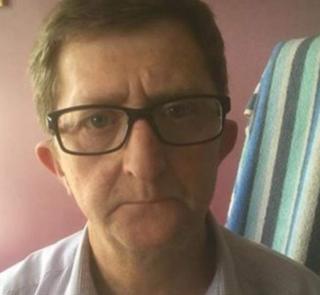 Police are to carry out further searches in the coming days for County Down man William McCormick, who they believe has been murdered.
Mr McCormick, known as Pat, was last seen in Comber on Thursday, 30 May.
The upcoming searches will utilise specialist advisers and specially trained search teams, police have said.
They said the 55-year-old's phone, an iPhone SE, has not been used since 30 May and has not been found.
"I am heavily reliant on the public to provide me with information that can help me find Pat," Det Ch Insp Pete Montgomery said.
"On the night of Pat's disappearance, he was wearing a beige jacket, blue jeans and brown brogue shoes.
"If you are out walking in the area and see any discarded clothing, particularly the beige jacket, blue jeans or brown brogues, please contact detectives."
CCTV footage
He added: "I am conscious that Pat's friends and members of the public want to help us find him, however I would advise against them conducting searches themselves and leave this to the police.
"If you have any information, no matter how insignificant it may seem, please contact detectives and pass it on to them."
Mr McCormick, a father of four originally from Saintfield, was last seen on Castle Street in Comber at about 22:30 BST on Thursday 30 May, driving his black car.
CCTV footage released by the PSNI shows Mr McCormick crossing Castle Street and walking through an archway.
A man aged 26 and a woman aged 20, arrested on suspicion of Mr McCormick's murder, have been released on bail pending further enquiries.
They were initially arrested on Monday on suspicion of kidnapping but were re-arrested on suspicion of murder later in the day.
A court later granted police permission to hold them for an additional 36 hours.
Two other men arrested as part of the investigation have also been released on bail.
The men, aged 20 and 39, were detained on Wednesday night on suspicion of assisting offenders and perverting the course of justice.