New laws on racist abuse and paramilitary flags expected in review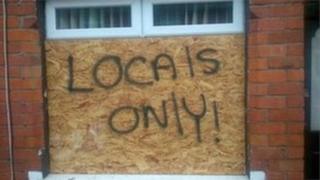 New laws around racist abuse and the display of paramilitary flags could emerge in a review of hate crime legislation in Northern Ireland.
The Department of Justice has asked a judge to oversee the work of a group of experts and report in a year's time.
According to Police Service of Northern Ireland (PSNI) figures, about 1,500 hate crimes are reported each year.
The department said the review fulfils a commitment given by the last justice minister Claire Sugden.
It added that the decision was influenced by "societal concerns", including "the display of offensive materials at bonfires".
Desmond Marrinan, the judge who is leading the review, said: "It will be looked at very closely to see if the law can be strengthened, particularly sectarian slogans or effigies being used in that way.
"But the review will be much more all-encompassing."
Mr Marrinan told BBC News NI that "in recent times racist hate crime has overtaken sectarian crime" in Northern Ireland.
"There are approximately 1,500 cases dealt with by the police in the last financial year," he added.
"But they acknowledge that that is only the tip of the iceberg - there's probably between 7,500 and 10,000 race hate crimes committed in Northern Ireland every year."
Mr Marrinan pointed out that racist abuse normally goes unpunished.
"One of the main reasons why the problem is so stubbornly high is that people don't report them - they are frightened to report them," he added.
"If someone was simply to use offensive language, say towards a person from an ethnic minority, without the accompanying use of disorderly behaviour, the police would find it very difficult to find a crime to cover that."
His review, which he said would take about 12 months, will also produce an agreed definition of a hate crime.