Bombardier confirms Mitsubishi talks on jet programme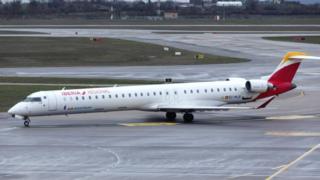 Bombardier has confirmed it is in talks with the Japanese firm Mitsubishi Heavy Industries regarding its CRJ aircraft programme.
The central fuselages of the CRJ planes are made at Bombardier's Belfast operation.
In May it put its entire Northern Ireland operation up for sale.
Mitsubishi told the Reuters news agency it was in discussions but no decision had been made.
Bombardier said it had "recently stated it would explore strategic options for the CRJ Programme."
A statement from the company said: "From time to time, this may lead to discussions with potential counterparties.
"While Bombardier does not generally comment publicly on market speculation or rumours, in light of recent media reports, Bombardier believes it is prudent to advise stakeholders that it is in discussions with Mitsubishi Heavy Industries, Ltd. with respect to its CRJ Programme."
"There can be no assurance that any such discussions will ultimately lead to an agreement."
Bombardier, which is headquartered in Canada, is selling off its commercial aircraft interests to focus on private jets.
The manufacturer employs about 3,600 people across several locations in Northern Ireland.
A Mitsubishi spokesperson said: " It is true that we are in discussions relating to a possible transaction involving Bombardier's regional jet program with strict adherence to the applicable competition rules and regulations.
"However, neither has any corporate decision been made, nor are there any prospects as to the contents of such a transaction."
The Air Current, a specialist aviation news service, originally reported that Mitsubishi was in exclusive negotiations to buy the CRJ.