Stormont: New 'intensified' talks 'last 25 minutes'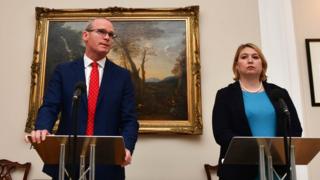 Northern Ireland's political leaders have met British and Irish ministers for talks aimed at restoring devolution.
A round-table session at Stormont lasted an estimated 25 minutes.
Afterwards, neither NI Secretary Karen Bradley nor Irish Foreign Minister Simon Coveney made any comment.
Michelle O'Neill, Sinn Féin, said a 25-minute meeting "was not the intensification of negotiations the two governments" had promised.
She called for the implementation of previous agreements.
Asked if the draft deal drawn up by Sinn Féin and DUP negotiators in February last year was one of the agreements she had in mind, Ms O'Neill said: "February has come and gone. We had a deal at that time and the DUP didn't deliver.
"What we need to see is equality and respect for all the people here. What we need to see is integrity in government."
DUP leader Arlene Foster insisted that there had been no agreement on the February 2018 negotiating document.
She said the disagreement had been aired very publicly.
"What we want to do is to find a way forward which everyone feels comfortable with and that's what we are engaged in at the moment," she said.
Mrs Foster called for a parallel process in which the parties could try to resolve their differences alongside a restored power sharing Executive.
Asked about a talks deadline, SDLP leader Colum Eastwood said a deal needed "to happen this month or it's not going to happen.
"We know from bitter experience what the summer can bring in Northern Ireland. We know the political difficulties we are going to face in September or October. Now is the time to do it."
Ulster Unionist leader Robin Swann said there is "an intention to intensify towards the end of this week".
He said there still needed to be movement on the workings of the controversial petition of concern which can be used by the parties to veto measures in the Assembly.
He also called for more progress on transparency and governance issues, including the accountability of Stormont ministers and special advisers.
Last week the Secretary of State Karen Bradley faced criticism from the National Union of Journalists for refusing to answer the media's questions after previous talks sessions.
Traditional Unionist leader Jim Allister - who is not invited to the negotiations - described Mrs Bradley's performance as "woeful for a cabinet minister".
Mr Allister claimed Mrs Bradley's lack of authority enabled Mr Coveney to exploit the situation by playing "ringmaster" for what he described as a "talks circus".
Mr Allister challenged the DUP and the Ulster Unionists to re-assert their principles regarding the role played by the Irish government concerning the internal future of Northern Ireland.
What are the main sticking points in the NI talks?
On Sunday, the British and Irish PMs welcomed what they described as the "constructive engagement" shown by parties in recent weeks.
They said consensus had been reached on some issues but not on others.
In a joint statement, Prime Minister Theresa May and Taoiseach (Irish Prime Minister) Leo Varadkar said: "It is clear to us that the Northern Ireland political parties wish to see the institutions of the Belfast/Good Friday Agreement restored, but operating on a more credible and sustainable basis."
They said there was a "genuine but narrow window of opportunity to reach agreement in the immediate period ahead" and said it was essential to "intensify talks to this end".
Northern Ireland's devolved government collapsed two-and-a-half years ago, after a bitter split in the power-sharing coalition led by the Democratic Unionist Party (DUP) and Sinn Féin.
The latest effort to restore devolution began on 7 May, shortly after the killing of journalist Lyra McKee.