Londonderry alert: Petrol bombs thrown at police officers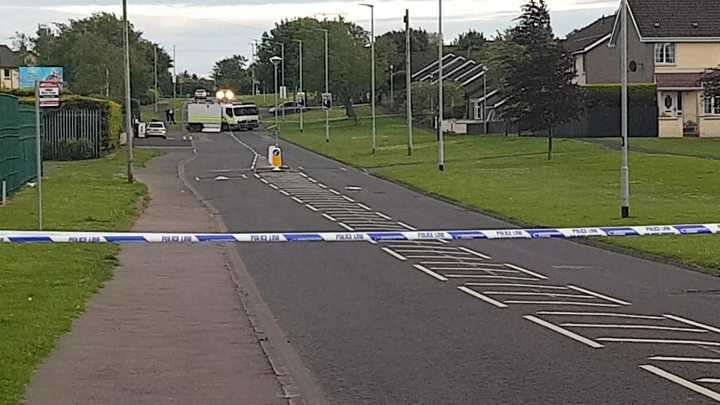 Police in Londonderry are continuing to question a 12-year-old boy and two 16-year-olds after officers were attacked with petrol bombs during a security alert.
Five petrol bombs were thrown after a suspicious device was found near a polling station in the Galliagh area.
The device close to St Paul's Primary School was later declared an elaborate hoax.
Police have described the attack as "orchestrated disorder".
Police recovered six other petrol bombs, two crates of empty bottles and 20 containers of paint.
The three boys were arrested on Thursday evening.
Supt Gordon McCalmont said there was no doubt officers were lured into the area and that those involved in the "orchestrated disorder had one aim in mind - to attack police".
He added: "This was all the more reckless by the fact that one of the petrol bombs hurled at police landed in close proximity to young children who could have been left seriously injured, or worse.
"This security alert is the second this month in this area, impacting the same community that was disrupted on May 2 during local council elections.
"It cannot be lost on anyone the disruption this has caused in the local community, let alone the potential for serious harm that could have been caused."
Voting continued at the polling station during the alert.
Sinn Féin councillor Aileen Mellon condemned the attack on police.
"The police had cordoned off the area, there is a shop nearby, the young people were standing at the side of the shop, throwing blindly, not looking were they were going," she said.
"There were young people, people with children parking up and going into the shop, someone could have very easily been hurt last night."
She said there had been a number of incidents in recent months in the area in which young people had set bins alight to "attract the police in so that they can have conflict with the police."
But DUP MLA Gary Middleton said he believed more sinister "dissident republican elements" were responsible for orchestrating the violence.
He said they are "encouraging these young people to do this, and it's part of a wider game in targeting the PSNI".
Supt McCalmont said the blame for the inconvenience "lies squarely with those individuals who left this close to a local school, which was being used as a polling station this evening.
"Those responsible have absolutely nothing to offer local people or society in general."