John Finucane denies 'political ploy' as he becomes Belfast lord mayor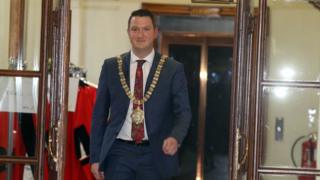 Belfast's new Lord Mayor John Finucane has rejected claims he was fast-tracked to the top post to boost his chances in the next Westminster election.
Mr Finucane came close to defeating the DUP MP Nigel Dodds in the North Belfast constituency two years ago.
Now the Sinn Féin councillor has become lord mayor, despite having only just been elected to the council.
Some of his political opponents at City Hall have suggested it is a political ploy by Sinn Féin to raise his profile.
On Tuesday, Mr Finucane denied this and said: "That's not something that's in my mind at all.
"I want to be a mayor for everybody.
"It's a city that I love and feel very strongly about and I'm looking forward to my time in office."
Mr Finucane is the son of murdered Belfast solicitor, Pat Finucane, who was shot dead by loyalists during the Troubles.
Mixed marriage
Now 39 years old, the new lord mayor is the same age his father was when he was killed in north Belfast 30 years ago.
Speaking of his family background, he said: "It's no secret that I am the product of a middle-class Protestant mother from east Belfast and a working-class Catholic father from the Falls Road.
"I think diversity in my personal background has made me stronger."
He added: "It's not just a sound bite from me to say I am here to represent everybody. I will be doing that."
Mr Finucane explained that he had relations on his mother's side who were members of the Orange Order, and he recently discovered that his grandfather served in the Royal Navy during World War Two.
"My office and my hand will always be extended, especially to the Orange Order," he said.
"Certainly I won't be found wanting should a request come in."
Mr Finucane said he would have "no difficulty" meeting members of the Royal Family on one of their regular visits to Belfast.
The new lord mayor also said that his party's long-standing boycott of the Remembrance Sunday commemorations would be again reviewed ahead of November.
He said he was "very cognisant of my own family history" in World War Two and added that he would deal with such issues in a "very sensitive" manner.
He said that he would not allow his year as mayor to be "dominated" by his own past, but he added that he hoped his late father would be "proud".
He was aged eight when he witnessed the murder of his father in February 1989.
Like his father, John Finucane is a lawyer.
His legal career will be put on hold for the next 12 months but he will stay involved in a small number of cases, including one in which he represents boxer Carl Frampton in a legal dispute with his former manager Barry McGuigan
The role of lord mayor in Belfast is largely ceremonial.
Belfast City Council met on Tuesday night for the first time since the recent council election.
No party has overall control of the 60-seat council.
The four largest parties are:
Sinn Féin - 18 seats
Democratic Unionist Party (DUP) - 15 seats
Alliance Party - 10 seats
Social Democratic and Labour Party (SDLP) - six seats
The position of lord mayor will rotate annually, with the DUP expected to be given the role next year.
Mr Finucane will replace his Sinn Féin colleague Deirdre Hargey, who has held the post for the past 12 months.
---
Who is John Finucane?
John Finucane is the son of murdered solicitor Pat Finucane who was shot dead in front of his wife and three children in 1989 by loyalist paramilitaries.
Like his father, he trained as a solicitor and now works at a Belfast-based law firm.
The Finucane family has been campaigning for a public inquiry into claims of collusion in the murder.
In February the Supreme Court ruled that there had been no effective investigation to date into the circumstances.
But the judges stopped short of ordering an inquiry, saying it was a matter for the state.
Sinn Féin Belfast councillor Ciaran Beattie has described his party colleague as a "fearless defender and promoter of human rights and social justice".
---
It is not unprecedented for a newly-elected councillor to immediately become lord mayor.
It happened when Sinn Féin's Niall Ó Donnghaile gained the position in 2011.
The rotation of Belfast's lord mayor post will see the DUP take the spot in 2020, the Alliance Party in 2021 and Sinn Féin again in 2022.
It is thought that the SDLP will be granted the post of deputy lord mayor next year.