RHI: Farmers 'lose trust in government after tariff cuts'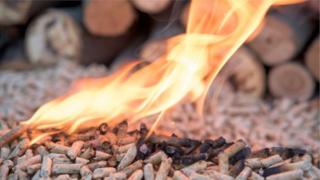 Farmers have no trust in the Department for the Economy and feel officials "do not know what they're doing", MPs have been told.
Thomas Douglas, who represents farmers supplying poultry stock to Moy Park, was giving evidence to the Northern Ireland Affairs Committee about the impact of RHI subsidy cuts.
Mr Douglas said tariff changes had placed producers at a commercial disadvantage.
He said this could badly hit industry.
The cuts were implemented in April 2019 as a long-term solution to what the Economy Department considered to be overcompensation in the scheme.
They brought average annual payments per boiler down from £13,000 to £2,000 a year.
Higher payments are available on comparable schemes in Britain and the Republic of Ireland.
MPs began their inquiry into the RHI payment rates after concerns were raised about the lack of scrutiny of legislation which established them.
Mr Douglas said many farmers were now considering reverting to fossil fuels and some could go out of business.
Senior Ulster Farmers' Union official Chris Osborne also gave evidence on Monday.
He said around 300 members of the union were in the scheme and many of them now faced cash flow difficulties.
'No credibility'
He said the view was that the latest tariffs were "completely unacceptable and completely uneconomical".
Mr Douglas said the approach of the economy department had effectively put people off getting involved in renewables again.
He said farmers would no longer trust commitments given by government on the value and term of the subsidies.
He also said banks were less likely to lend on the strength of those government guarantees.
"There's no credibility there," he said.
Mr Douglas said Moy Park had told MPs it had a long-term commitment to Northern Ireland but the size of that commitment had not been quantified.
He said the broiler breeder producers he represented, were putting 1.8m eggs a week into a Moy Park's hatchery in Britain.
At present breeders here were competitive on price, but if that changed, he feared Moy Park would switch to suppliers in Britain.
The organisation that represents RHI boiler owners also gave evidence to the committee.
'Handing money back'
The Renewable Heat Association for Northern Ireland (RHANI) speaks on behalf of about 500 businesses.
Spokesman Andrew Trimble said biomass heat had been embraced by both the public and private sector in everything from agriculture to hospitals to sports clubs and churches.
He said the intention had been to have 29,000 installations but the collapse of the scheme meant there were only 5,000.
He claimed any risk of an overspend falling on the Northern Ireland block grant had been removed by the 2017 regulations, which introduced an earlier cost-cutting measure.
He said the 2019 regulations meant that the economy department would be handing money back to Treasury for the remainder of the lifetime of the scheme.
The economy department has said the latest changes were necessary to ensure the scheme was compliant with EU rules on levels of business support - something which has been disputed.