Fr Martin Magill says NI politicians felt pressure at Lyra McKee funeral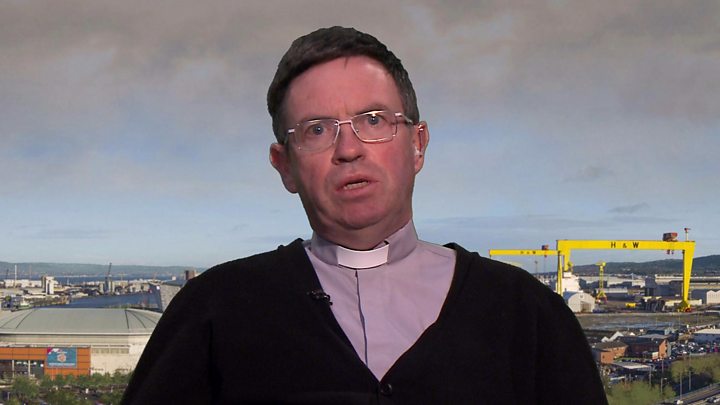 The priest who criticised politicians at Lyra McKee's funeral has said people in the church put "pressure" on them to join a standing ovation.
Ms McKee was shot while observing a riot in Londonderry last week.
Fr Martin Magill was applauded when he asked why it had taken the journalist's death to bring politicians together.
In an interview recorded for this Sunday's Andrew Marr programme he said: "People want our politicians to move, and they want them to move now."
During the funeral service, Fr Magill had commended Northern Ireland's political leaders for "standing together" in the Creggan area of Londonderry on Good Friday to attend a vigil for Ms McKee.
However, he then added: "Why in God's name does it take the death of a 29-year-old woman with her whole life in front of her to get to this point?"
New talks
The British and Irish governments announced on Friday a new talks process, aimed at restoring devolution in Northern Ireland, would begin on 7 May.
Sinn Féin collapsed the coalition government in January 2017 in protest at the DUP's handling of a green energy scandal.
Since then, several rounds of talks have failed, with the two parties failing to find a compromise on a number of outstanding issues including Irish language rights and the legalisation of same-sex marriage.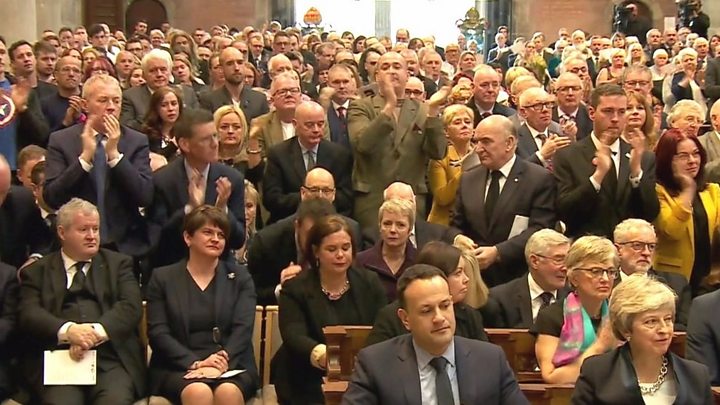 Fr Magill said politicians were slow to stand up when his words were applauded in Belfast's St Anne's Cathedral.
"The people, in a sense, really put the pressure on in the cathedral to stand," the priest said.
"Obviously the politicians realised; 'Oh goodness, everybody behind us is standing, we need to move,' and they literally moved because people had moved."
'Difficult issues'
DUP leader Arlene Foster said it was "a moment of great clarity during the service", but acknowledged there were difficult issues to be discussed.
Speaking on the Today programme, Mrs Foster repeated her call for a parallel talks process.
"We have been wanting an Assembly up and running since its collapse and we have said again this week that we want the Assembly set up immediately," she said.
"We haven't blocked anything. We have been engaging in talks but what I'm saying is that these are difficult issues - and they are for people in Northern Ireland."
Sinn Féin MLA Conor Murphy said the British government had to come forward with "rigorous impartiality, to try and get a process together which can address the outstanding issues".
He also said a parallel talks process was "unlikely to work".
"We had a 10-year parallel process, if you like, where issues like same sex marriage, Irish language and legacy rights were being presented and pressed and the DUP used various devices to block those," he said.
The British and Irish governments are to review progress in the negotiations at the end of May.
Fr Magill's interview will be broadcast as part of The Andrew Marr Show on BBC One at 09:00 BST on Sunday, 28 April.