Cash machine thefts: ATM stolen from Bushmills found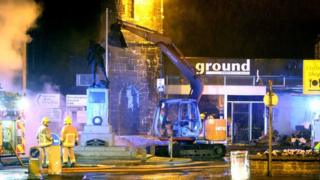 A cash machine that was ripped from the wall of a shop in Bushmills, County Antrim has been found.
Police said examinations of the cash machine are now being carried out.
The incident, which was the ninth cash machine theft across Northern Ireland and the Republic of Ireland since the start of the year, happened in Market Square early on Tuesday morning.
After the raid, the digger used in the theft was set on fire. The fire service was called to deal with the blaze.
In 2019, thieves have struck nine times, stealing 10 individual cash machines.
Detective Chief Inspector Dunny McCubbin said that the criminals' actions have caused financial harm to the business that was targeted and have caused devastation to the local community.
"I want to reassure the public that we continue to take this matter extremely seriously," he said.
"I understand the fear that these attacks are causing and the damage that is left in the wake of each theft. We are doing all we can to catch the people responsible and stop these attacks."
On 7 April a stolen digger was used to rip a cash machine from the side of a shop in County Londonderry.
Six days earlier, an excavator was used to steal a machine in Ahoghill, County Antrim.
There have also been thefts in Kingscourt and Castleblayney in the Republic of Ireland, as well as a number of other locations in Northern Ireland.
In February, the PSNI established a special task force to deal with the thefts.
Police believe that at least two gangs are involved.
Local business owner Geoffrey McKillop said the theft was a devastating blow to Bushmills.
He said that the incident "paints a really bad picture for the village" just as the tourism season gets under way.
Butcher Jamie Kane said it would affect local people, adding that he feared the theft could put people off enjoying the village as the weather improves.
"Shameless"
Retail NI chief executive Glyn Roberts said the theft was "shameless".
"The loss of this cash machine means the local community and tourists will be restricted in accessing cash," Mr Roberts said.
"Every single cash machine robbery brings rural Northern Ireland that much closer to being a cash-free zone.
"Regardless of whether or not they have been robbed, many Retail NI members are now considering removing their cash machines for fear of their shops being smashed up," he added.
Mr Roberts said Retail NI is due to meet members of the Policing Board on Thursday to discuss the police response and what more can be done to stop these crimes.