Victoria Square apartments: 'No assurances' on compensation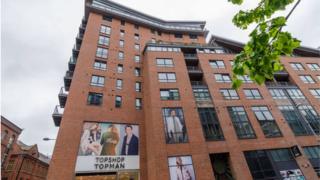 The management firm of a Belfast apartment complex that was vacated for safety reasons says it cannot "make any assurances" on compensation costs for alternative accommodation.
On Wednesday, residents at the Victoria Square complex were told to leave the building "immediately" due to structural concerns,
Victoria Square Residential Management Limited has released a statement.
It said the estimated cost of repairs was "significant".
The firm said this was "given the technical nature of the work involved", and that it hoped to start work on site soon.
It said it was "regrettable that this situation will cause inconvenience to the residents of the apartments", adding it was "doing all it can to resolve the matter as quickly as possible".
A resident at the complex, Adam Cain, said he found it "shocking" that the management company could not "make any assurances" on compensation costs.
Mr Cain said he was told to vacate the building at short notice with a knock on the door coming as he cooked his dinner.
He and his fiancée are currently staying in hotels.
The management company said it is estimated that the repair work will take approximately 20 weeks, but that it will "involve a period of investigation to determine the specific cause of the damage and the parties responsible".
The firm said "the absolute priority is to protect the structure of the building and ensure the safety of its residents".
It said that "in order for evacuated residents to return to the building as soon as possible", it will be "necessary for the management company to apply its funds in the first instance towards the required repairs".
"The management company is therefore not in a position to make any assurances in relation to costs incurred by the evacuated residents for alternative accommodation," it said.
The firm said it "is possible that some residents may be able to return to their apartments sooner [than] the projected date for completion of the repair works but this cannot be confirmed at this point in time".
"In the meantime, the management company and its agent will continue to liaise directly with apartment owners affected by the required evacuation," it added.
"Throughout this process the management company has kept the owner of Victoria Square Shopping Centre informed about its proposals to repair the structural issue within the residential development."
The company said it maintained the Victoria Square residential development at Chichester Street which has 91 apartments.
It said the "apartment owners are shareholders" in the management company.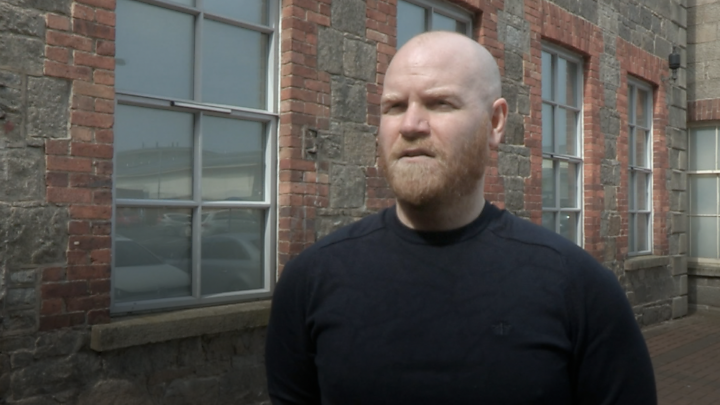 Earlier, a Victoria Square resident said he did not know where he and his partner would sleep tonight.
Cian Carroll, who is from Dundalk but renting in Belfast, was put up in a nearby hotel by a management company.
"We haven't had any further information so we don't know what's going on, or where we're going to sleep," he said.
"I can't get my head around the shops and car park both being open, yet the residents have been told to leave. What's going on?"
Victoria Square is open for business as usual, despite structural issues affecting apartments in the complex.
It said it is "working with the managing agents of the apartments to assist in their investigation".
'Little information'
Mr Carroll told BBC News NI that it was his understanding that 23 residents stayed in a Holiday Inn on Wednesday night and a number of others slept in a Hampton by Hilton hotel in the city centre.
"There has been very little information and if there were any concerns over structural damage before this, we were not privy to it," said Mr Carroll, who moved into the apartment block in February.
"We can go back to family in Dundalk, if we have to, but I'm sure there are residents who aren't in that position.
"We're lucky that we don't have any kids to worry about, but I don't know what you'd do if you did."
A letter to residents from McGuinness Fleck estate agency said work was being done to resolve a "serious structural issue".
A spokesman said the repair would take 20 weeks to complete, but Mr Carroll said he only found this out because it was in the news on Thursday morning.
'An adventure'
Another resident told BBC News NI: "We've been told we may be out for a few days, but we've packed for a week.
"It's a bit of an inconvenience but, at the same time, it's an adventure."
The woman, who has lived in the complex for a few months, said there had been "absolutely no sign of any damage" in her apartment.
A resident, who moved into the complex at the end of March, said two men called at her apartment on Wednesday evening and handed her a letter saying a structural report had revealed a problem.
The woman said she was told the apartment "wasn't safe" and was advised to move out as the whole block was affected by the issue.
Structural
A lawyer for the Victoria Square Residential Management Company Ltd said the decision was not "taken lightly".
Emmet McKeown of Johns Elliot Solicitors, which represents the Victoria Square Residential Management Company Ltd, said that since "a structural issue was initially identified in February, there has been a process of detailed structural assessments of the building".
Mr McKeown added: "Engineers have been inspecting the building in coordination with the landlord for Victoria Square Shopping Centre.
"A programme of repair work will now need to be done which is being arranged at the moment.
"A timescale of 20 weeks is what we are currently expecting."
In a statement, Belfast City Council said: "Structural engineers engaged by the managing agents for the residential properties at Victoria Square contacted our building control team earlier this week to notify us of planned works to resolve a structural issue within the site.
"Our team are now in contact with the structural engineers to ascertain the exact nature and extent of the issue and the timescales involved, and these conversations will continue over the coming days."