Police 'foil dissident mortar attack'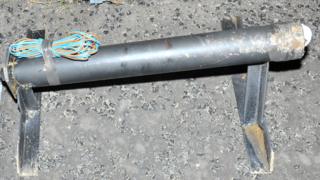 A horizontal mortar tube and command wire have been found in Castlewellan, County Down.
The PSNI said the tube contained no explosive device and it was likely to be collected for use elsewhere.
They were found on the Drumnaquoile Road by a member of the public at about 15:00 BST on Monday.
A "full and extensive clearance operation" was launched in the area following the discovery. It ended on Tuesday with nothing more found.
PSNI Det Supt John McVea said it was likely the tube was left by one dissident for collection by another.
Mr McVea said it was not left in a position that suggested it was about to be used to launch a mortar at a passing car on the road.
'Not covered'
"We are very pleased to have this item recovered - undoubtedly it was in the future intended to be used in an attack against the security forces," he said.
Police believe the weapon may have been left at the building on the rural Drumnaquoile Road as recently as Sunday.
The discovery prompted a major security operation in the area.
"There is a derelict farm building in the immediate vicinity. The device, the mortar tube, was left just by the wall," said Mr McVea.
"It was not covered in any way.
"It was in very good condition and there were no signs it had been left to the elements for any length of time and certainly we are working on the theory that it was left there in very recent times."
Earlier a PSNI colleague had appealed to local people to come forward with information.
"We know that the vast majority of people support our police officers and simply want to live in a peaceful society," Det Insp Orr said.
"We will continue to work with communities to disrupt the activities of the small group of people who are intent on using violence."
The Police Federation for Northern Ireland (PFNI) said the discovery prevented a "vicious dissident republican attack on police officers".
"What this shows is the need for constant vigilance," PFNI Chair, Mark Lindsay said.
"This is yet another demonstration of the bankrupt nature of those who seek to inflict pain and suffering on the community."
South Down Sinn Féin MP Chris Hazzard said there was no place for this type of activity in our society:
"I welcome that these materials have been taken out of circulation and out of the hands of those who cause death and destruction in the community."