Flybe flight cancellations hit Belfast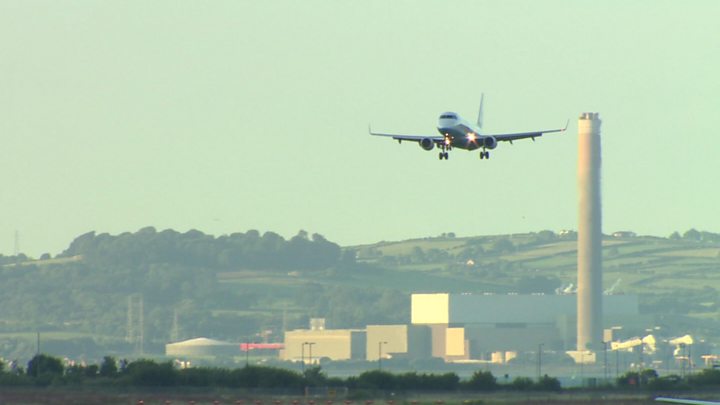 Ten Flybe flights in and out of Belfast City Airport on Wednesday have been cancelled.
It comes as the company enters discussions about potential job losses.
In Northern Ireland, five departures and five arrivals have so far been affected.
Flybe said the cancellations were due to "operational issues". Airports across the UK have been affected with more than 20 flights in total cancelled.
The company blamed an industry-wide shortage of pilots for the delays, as well as its own pilots taking holidays.
Flights from Belfast City Airport and Birmingham were among those affected. Most of the flights were within the UK.
Passengers received texts and emails on Tuesday evening telling them of the cancellations.
In a statement issued on its Twitter page, Flybe apologised to all customers affected.
"Whilst 95% of Flybe flights are operating as per normal, we do recognise the impact of today's cancellations," it said.
"We are doing our best to mitigate the impact of the current situation that has arisen due to a combination of factors, including seasonality, pilots' end of leave year, Easter holidays, base restructuring and the shortage of pilots across the industry that Flybe has highlighted over recent months.
"All customers affected have been emailed and advised they can re-book for travel on an alternative flight or apply for a full refund."
The discussions over jobs are at an early stage and the company will try and avoid job losses by filling internal vacancies with existing staff, including roles at other bases, Flybe's chief executive Christine Ourmieres-Widener told BBC Radio 5 live on Wednesday.
The company is "engaging with all impacted crew", she said.
Of the delays, she said the company would "follow all the rules of compensation" and that "we are expecting to go back to normal operation as soon as possible".
Analysis: Clodagh Rice, Business Reporter
These cancellations come at an interesting time for Flybe - it's the first week of the airline's summer schedule.
And the first new timetable since the airline was taken over last month.
It was bought by a consortium called Connect Airways, that's made up of Virgin atlantic Richard Branson (30%), the Stobart Group (30%) and Cyrus capital hedge fund makes up 40%.
It bought the airline for £2.2m offering shareholders just 1 pence a share and the deal was approved in March.
This isn't the first sign of teething problems - on Monday passengers on a new service from Newquay to Heathrow had their flight cancelled.
The union, Unite, has called on Flybe to be "fully transparent" about the company's situation.
Regional officer Peter Coulson said "Our members are justifiably concerned about their jobs and future employment, as a result of the company cancelling a number of flights for 'operational reasons' and having launched a redundancy programme."
He said the current uncertainty was "incredibly unsettling" and was "in danger of severely damaging morale".
Stranded passenger
Niall O'Hara, from Dungiven, had been due to fly to Glasgow on Wednesday morning for a meeting.
"I was totally unaware there was a problem, until a colleague of mine tried to check into their flight late yesterday evening," he said.
"It was only then, when they couldn't check in, we became aware - Flybe had contacted neither of us to actually let us know that the flight had been cancelled.
"No direct communication from them and there seemed to be no update automatically pushed through."
Flights cancelled at Belfast City Airport:
Departures:
07:15 East Midlands BE361
08:25 Glasgow BE121
08:40 Birmingham BE403
10:35 Leeds Bradford BE731
12:45 Aberdeen BE154
Arrivals:
07:55 Birmingham BE400
08:00 Glasgow BE122
09:50 East Midlands BE362
12:20 Aberdeen BE153
13:00 Leeds Bradford BE732