Up to 30 abuse survivors have died since end of HIA inquiry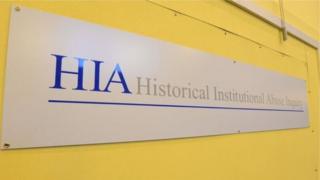 The High Court has been told that as many as 30 survivors of historical institutional abuse have died since the inquiry ended two years ago.
A judicial review into the government's failure to pay compensation to survivors is being heard on Monday and Tuesday.
A lawyer representing survivors said elderly people who gave evidence to the inquiry were "literally dying".
Barry Macdonald said there "can't be a vacuum in governance".
He told the court that the Northern Ireland secretary and Executive Office were playing "pass the parcel" over who was responsible for implementing the compensation scheme.
"There is a political hiatus in Northern Ireland but not a legal hiatus," he said.
"Government may be dysfunctional but the legal system isn't."
But Tony McGleenan QC, for the secretary of state, told the court that nothing about the Historical Institutional Abuse Inquiry was the function of the secretary of state.
Mr McGleenan said it had been implemented and carried out entirely "within the devolved sphere".
He said things were complicated because the decision how to proceed with possible interim payments had not been able to be agreed by the local political parties.
He added that the Northern Ireland civil service had further complicated matters because their preparatory work on legislation for the redress scheme was towards a functioning assembly and an executive, not Westminster.
Power and responsibility
Mr Macdonald said the role of the court was to identify who in government had the power and legal responsibility to deal with the issue.
On Monday afternoon, Mr McGleenan said the underlying driver for NI Secretary Karen Bradley's approach was to give "time and space" for an executive to be restored.
The judge, Mr Justice McCloskey, asked Mr McGleenan if the secretary of state did not feel duty bound to bring legislation to Westminster given the "outright inertia" in the local political jurisdiction?
Mr McGleenan replied that she did, but had acted in the interests of bringing power sharing back to Stormont.
The inquiry into abuse and neglect at children's homes run by religious orders and the state began public hearings in 2014.
In his report in 2017, inquiry chairman Sir Anthony Hart recommended compensation of between £7,500 and £100,000 should be paid to survivors.
The hearing continues.