UVF paramilitaries flooding Belfast with cocaine, court told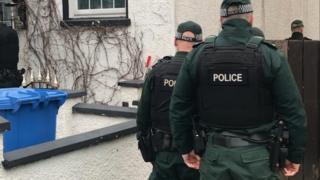 Three men have been remanded in custody after being arrested during police raids targeting loyalist paramilitaries in east Belfast.
Darren Baine, 29, and Mark Rainey, 39, both from Belfast, and County Down man Andrew Crawford, 27, are accused of supplying cocaine.
They appeared at Belfast Magistrates' Court on Saturday.
The court heard the Ulster Volunteer Force (UVF) has been "flooding the streets of Belfast" with drugs.
The detective sergeant from the Police Service of Northern Ireland (PSNI) said that Mr Baine, of Cheviot Avenue, was part of a drug-dealing network and a criminal gang linked to the east Belfast UVF.
The officer told the judge that the defendant played a key role in the drug-dealing operation.
A defence solicitor applied for bail for Mr Baine, saying that others with a "more serious role", including "a top player", had already been released on police bail.
'UVF consistently uses violence'
When asked by the judge about his client's occupation, the solicitor said that Mr Baine did not work or receive benefits but has "a small amount of savings".
The judge refused bail because of a "real risk" of more offences being committed.
The solicitor said that Mr Baine would go to the High Court next week to apply for bail.
The court heard that suspected cocaine with a street value of £15,000, as well as UVF flags, were found in the home of Andrew Crawford, of Cairndore Grange in Newtownards.
The police officer said the alleged drug-dealing operation is linked to the east Belfast UVF, which, he added, "consistently uses violence".
Applying for bail, a defence solicitor told the court that the case against Mr Crawford was a "scary experience for him" and that he "is worried about his job".
The police officer opposed bail because of "the seriousness and gravity" of the "overwhelming" case against Mr Crawford.
The judge refused bail, citing the "significant amount" of cocaine allegedly found in the defendant's home.
Mr Rainey, of St Patrick's Walk, did not apply for bail and will appear in court again by videolink next week.
A 22-year-old man who also appeared in court accused of drugs offences was released on bail.
The judge ruled that the case against him was a "standalone" case and separate from the other three.
'High value cars seized'
The four men were among nine who were charged after a operation on Friday by the PSNI's paramilitary crime taskforce.
Eleven men were arrested after raids at 14 properties in Belfast, Newtownards and Comber in County Down.
Class A drugs and "high value" cars were seized in the searches.
Four men, aged 32, 47 and two 48 year olds, will appear at Belfast Magistrates' Court on 18 April, charged with being concerned in the supply of a class A drug.
A 34-year-old man faces a charge of unlawfully obtaining and disclosing personal data.
Another man, aged 32, who was arrested on suspicion of possession of a class A drug with intent to supply has been released on bail pending further inquiries.
A 40-year-old man arrested on suspicion of possession of a class B drug, intimidation and improper use of electronic communications has been released to be reported to prosecutors.
The charges will be reviewed by the Public Prosecution Service.