Cookstown hotel disco 'crush': Three teens dead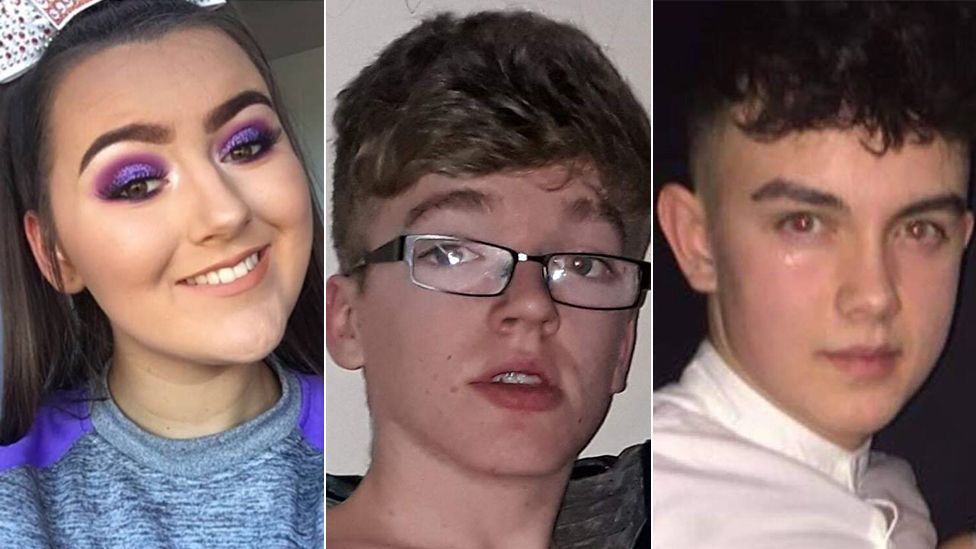 Three teenagers have died after reports of a crush at a St Patrick's Day party at a hotel in Cookstown, County Tyrone.
Lauren Bullock, 17, Morgan Barnard, 17, and 16-year-old Connor Currie, died after the incident outside the Greenvale Hotel on Sunday night.
The police said a large group of young people had been waiting to get into a disco at about 21:30 GMT.
"No matter how much we screamed and pushed back, there was no movement," said eyewitness Eimear Tallon.
One of the teenagers died at the scene. A number of other teenagers were also treated in hospital.
Ms Bullock was a pupil at St Patrick's College in Dungannon and her principal, Catherine McHugh, described her as a "shining light".
The two boys were pupils of St Patrick's Academy in Dungannon, where a prayer service has been held.
Principal Fintan Donnelly said the tragedy had had a "huge impact on the whole school community".
Edendork Gaelic football club said it was "devastated to hear of the tragic passing of our much loved and highly thought of player and member Connor Currie".
In a Facebook post, it said: "Connor will forever be remembered with the greatest affection by all associated with our club and indeed the wider Edendork community."
Online tributes have been paid to Ms Bullock by Euphoria All Star Cheerleading NI, where she was described as an "incredible cheerleader and the back bone of our team".
Describing Ms Bullock as "the most down to earth, beautiful soul", the club said members were "absolutely devastated".
Greenvale Hotel owner Michael McElhatton said he was "deeply shocked and saddened by the traumatic events".
"We offer our heartfelt sympathies to the families and friends of the three young people who have lost their lives," he said.
He added that management and staff were assisting the police in their investigations.
Police Service of Northern Ireland Assistant Chief Constable Mark Hamilton said: "Our preliminary investigations show there was a crush towards the front door of this hotel, and in that crush people seem to have fallen.
"There seemed to be a little bit of struggling going on to get people up off the ground and that might explain also why there was a report of some fighting."
He added: "It is heartbreaking that an event which should have been fun for these youngsters on St Patrick's night should end in such a terrible tragedy."
A teenage eye witness told the BBC people were "pushing and shoving each other, trying to get closer to the gates" of the Greenvale Hotel.
He said the disco was the most popular in the area and often attracted large crowds.
"We were all outside waiting for the gate to open and get in," he told the paper. "Then everyone just started swaying back and forth and pushing from side to side.
"Suddenly there was a rush forward and the whole queue collapsed and everyone fell to the ground."
The teenager said he was pinned to the floor with other people on top of him and unable to move for 20 minutes, adding that there were more than 100 people involved in the queue crush.
Northern Ireland Ambulance Service's medical director Dr Nigel Ruddell said: "Everything points towards it being a tragic accident."
"It was clearly a very distressing scene for all those who were caught up in the midst of it," he added.
Paramedics, doctors and five emergency crews were dispatched to the venue at about 21:30.
In a Facebook post at 22:27, the police asked parents to collect their children from the hotel immediately.
ACC Hamilton said the Northern Ireland Ambulance Service had received a 999 call on Sunday night with reports of people injured outside the hotel.
They declared it a major incident and police, the fire service and environmental health staff then also attended the scene.
"Police arrived within two minutes of the call from the ambulance service and quickly secured the scene," he said.
"We made an urgent appeal via social media to parents of the young people to come and collect them from a Friends and Family Centre which was established in the nearby Glenavon Hotel."
ACC Hamilton said police were continuing to interview people who were at the party to establish the full facts and appeal to anyone who witnessed what happened to contact police.
A representative of the nearby Glenavon Hotel said the PSNI borrowed its defibrillator.
Mid-Ulster District Council said Books of Condolence will be opened in Cookstown, Dungannon and Magherafelt on Tuesday morning.
Sinn Féin deputy leader Michelle O'Neill has urged young people, including those under 18, to tell the police what happened in Cookstown.
"Today is about establishing the facts and making sure that police get to the bottom of it," she said.
Democratic Unionist Party leader Arlene Foster said her "thoughts and prayers are with everyone impacted".