Dennis Hutchings begins appeal against non-jury trial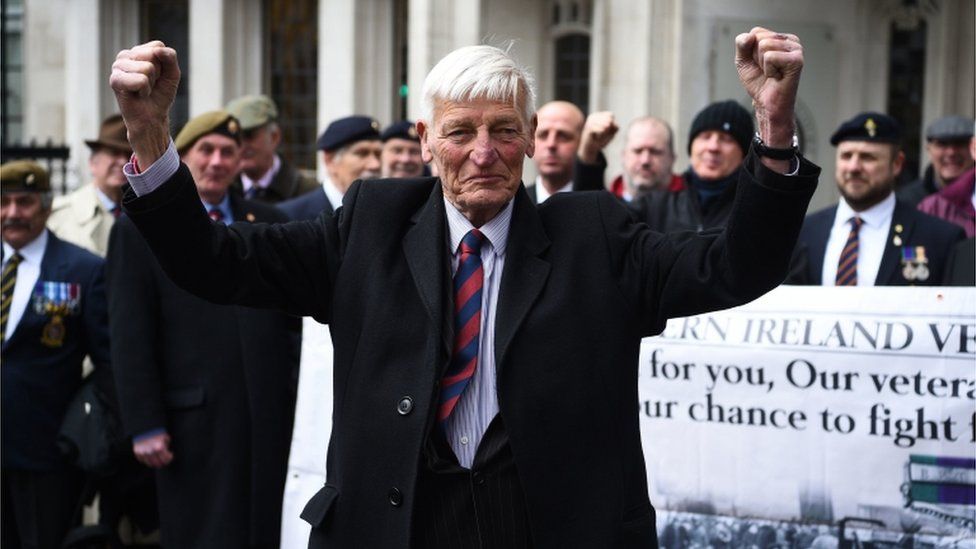 Former soldier Dennis Hutchings has begun his appeal to the Supreme Court against a decision to try him in a Diplock Court.
Mr Hutchings is due to be tried for attempted murder in connection with a fatal shooting in NI in 1974.
A Diplock Court is a non-jury trial heard by a judge only.
Mr Hutchings, 77, from Cawsand, Cornwall, has denied charges of attempted murder and attempting to cause grievous bodily harm.
John Pat Cunningham, 27, who had learning difficulties, was shot in the back as he ran away from an Army patrol near Benburb, County Tyrone, in 1974.
Mr Hutchings has made the case it was never his intention to kill or injure Mr Cunningham, but that he was firing warning shots to get him to stop.
Supporters from campaign group Justice for Northern Ireland Veterans clapped and cheered as the ex-soldier arrived at the court in London on Thursday morning.
Mr Hutchings thanked the supporters and said: "Victory for veterans, that's what we want."
The former corporal-major in the Life Guards said he was "a bit nervous, obviously, although I don't think we will get a decision today".
He said he was "reasonably confident" he would win his case, but added: "I just don't trust the system anymore."
The non-jury system was named after Lord Diplock, a former senior judge and Law Lord.
During the height of the Troubles, he chaired a commission that examined proposed changes in the administration of justice in an attempt to deal with terrorist offences.
The commission published its report in December 1972 and non-jury courts were introduced the following year.
The introduction of Diplock courts was opposed by civil liberty organisations and both nationalists and republicans.
At their peak, more than 300 trials per year were held without a jury.
The government technically abolished the old Diplock courts in 2007.
However, the government gave the director of public prosecutions temporary power to decide that exceptional cases should be tried without a jury if he believed there was still a risk of jurors being intimidated.
In court Mr Hutching's lawyer argued that in order to be subject to a non-jury trial: "The offence must have occurred due to political or religious hostility (directly or indirectly) and that cannot apply to the security services who were there to uphold law and order and so were not engaging in any such acts (directly or indirectly)."
A lawyer for the NI director of public prosecutions said Mr Hutchings' contention that the shooting did not relate to "religious or political hostility" effectively "ignores the reality of the situation which prevailed in Northern Ireland in 1974".
The Supreme Court is expected to reserve its decision.