Eight-foot bronze statue of Jesus stolen in Belfast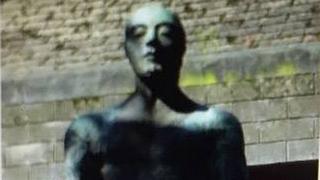 An eight-foot (2.5m) tall statue of Jesus has been stolen from a Catholic church in north Belfast.
Police said the bronze modernist sculpture was removed from the Church of the Resurrection on Cavehill Road sometime in the past few weeks.
Bronze doors worth £40,000 were also removed from their hinges and cut up.
The doors were commissioned specially for the church, which is no longer in use, and have been damaged beyond repair.
The police have appealed for anyone with information about the theft to contact them.
'Disrespect'
Father Edward McGee, a spokesman for the Diocese of Down and Connor, said it was "a very shocking and distressing incident" and had been upsetting for parishioners.
"It showed great disrespect for a sacred site," he added.
The church was last in regular use in 2008.
Fr McGee explained that the statue had originally stood in the church grounds but was recently moved into the building for safekeeping after a caretaker noticed it had been damaged by vandals.
The bronze doors appeared to have been left by the thieves for later collection.
Fr McGee said the parish priest had received calls of support from across the community in north Belfast.