Brexit: NI civil service boss letter 'raised eyebrows'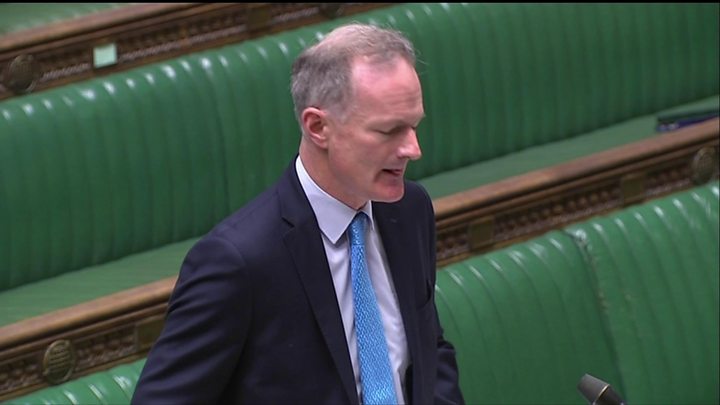 Some people will have "raised their eyebrows" at a letter issued by Northern Ireland's civil service boss warning about the impact of a no-deal Brexit, a Northern Ireland Office minister has said.
David Sterling's letter to NI political parties was published on Tuesday.
John Penrose described Mr Sterling's warning as "a politically charged comment from a civil servant".
He was speaking at Northern Ireland questions in the Commons.
Mr Penrose said the simple answer to avoiding the scenarios painted by Mr Sterling was to "find a deal which will work" for everyone.
He said the government's focus was on the meaningful vote, which is due to take place next week.
'Scare tactics'
Earlier, Mr Sterling's letter was dismissed by a DUP MP as "scare tactics".
Sammy Wilson was giving evidence to Westminster's NI Affairs committee.
Mr Wilson said he did not care if Mr Sterling "was head of the civil service or Santa Claus", that he was wrong.
The UK is due to leave the EU on March 29.
But the House of Commons rejected the government's first Brexit deal over the Irish border backstop, and talks are continuing in Brussels between the UK and EU in a bid to negotiate changes to the withdrawal agreement.
The DUP has said it will not support the deal unless there are "legally binding" changes to it.
United Ireland
Mr Wilson was asked by DUP colleague Ian Paisley about his views on those who said a no-deal Brexit would lead to a united Ireland.
Mr Wilson dismissed that as "scare tactics", and said another example of that was the letter from Mr Sterling.
"The fact of the matter is he has got it wrong," Mr Wilson told MPs.
Also giving evidence to MPs on Westminster's Northern Ireland Affairs Committee, the Traditional Unionist Voice (TUV) leader Jim Allister accused the PSNI Chief Constable of "playing politics" with concerns about the Irish border after Brexit.
Mr Allister said George Hamilton was "embracing anti-Brexit language" by warning of violence at the Irish border when the UK leaves the EU.
Lady Hermon described his remark as "appalling".
She asked Mr Allister why he did not believe people should be concerned about the impact of a no-deal Brexit on the border.
She cited comments made by George Hamilton last year when he rejected claims that the threat of violence at the Irish border after Brexit was being exaggerated.
'Playing politics'
But Mr Allister said he believed the chief constable was playing politics and "talking up the threat from terrorism" as a reason for not having a "proper Brexit".
Lady Hermon accused Mr Allister of assuming to know more than Northern Ireland's top police officer, but the TUV leader said she had asked him for his view and he was entitled to express it.
Green Party NI leader Clare Bailey also appeared before MPs on the committee.
She said making any changes to Northern Ireland's economic situation - by taking the UK out of the EU single market and customs union - would be damaging and add to the "instability" at present.
'Civil disobedience'
People Before Profit's Gerry Carroll said "civil disobedience on the streets" could be the result of a no-deal Brexit.
The MLA said his party would call on people to protest against "any resurrection of a hard border".
He also cited evidence from the PSNI chief constable that any future checkpoints could be a target for dissident violence.