Enniskillen schoolboy guilty in upskirting case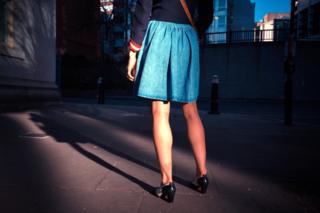 A teenager who took upskirt pictures of two teachers at a Fermanagh school has been found guilty of committing acts of outraging public decency.
Timothy Boomer, 18, was charged with five counts of committing an act of a lewd, obscene and disgusting nature and outraging public decency.
He took five pictures of two female teachers at Enniskillen Royal Grammar School in 2015 and 2016, when he was 14 and 15.
He is no longer a pupil at the school.
'Daredevil prank'
In statement Boomer apologised for the "distress, worry and pain" his actions had brought about.
"It was a wrong, horrible thing to do and at that age I stupidly and wrongly thought it was a daredevil prank, which I genuinely meant no harm by," he added.
A panel of magistrates at Enniskillen Youth Court rejected a defence argument that it was a "schoolboy prank" and not a criminal offence.
Teachers' union NASUWT has welcomed the guilty verdict, saying it would hopefully provide the teachers with a sense of closure and allow them to move on from "these distressing events".
The union's members had to endure a violation of having intimate images taken of them and several years before the case was brought to court, said NASUWT General Secretary Chris Keates.
The verdict sent out a clear message to pupils that engaging in such degrading behaviour was completely unacceptable, she said.
"This case has highlighted the inadequacy of current laws around sexual harassment in Northern Ireland," added Ms Keates.
"Legislation has failed to keep up with the advent of mobile technology and it is clear new powers are needed to create an offence of upskirting, which would bring Northern Ireland into line with the laws in England and Scotland."
The case
Images taken by the teenager were discovered on a memory stick in an ICT room at the school.
The court was told there was no evidence that the images had been shared with any third party.
The defendant did not appear in court or give evidence and was absent again for the judgement.
The fact that the images were taken by the pupil were not in dispute, but the case centred on legal definitions of the offence.
There is currently no criminal law of "upskirting" in Northern Ireland.
But making upskirting a criminal offence is one of the proposals in a review of laws around Child Sexual Exploitation (CSE).
The Department of Justice (DoJ) has launched a consultation on potential changes to legislation in Northern Ireland.
Upskirting has recently become a criminal offence in England and Wales.
Defence barrister Frank O'Donoghue QC said "the prosecution is trying to shoehorn the facts of this case into the current unsatisfactory state of the law".
The chairman of the youth panel, Judge Michael Ranaghan, said the acts of filming up the skirts using a mobile phone "cannot have been envisaged when the common law offence was written".
He said "there is a need to update the statute book to take account of advances in modern technology".
The verdict
In reaching their verdict the panel ruled that the images were lewd, obscene and disgusting.
Although there was restricted access to the school, the judge said a school setting was different from a home in terms of expectations of privacy.
He said that teachers and pupils did form members of the general public and the school was a public place.
He said the elements of common law had been satisfied and they made a finding of guilt in respect of the five charges.
The two teachers hugged each other at the conclusion of the judgement and said they would need time to gather their thoughts at the end of a lengthy judicial process.
A sentencing hearing will take place next month.
Boomer said he recognised the "devastating impact" on his teachers, parents, and family.
"My regrets will be with me for the rest of my life," he added.