SDLP: Claire Hanna's position confusing, says Eastwood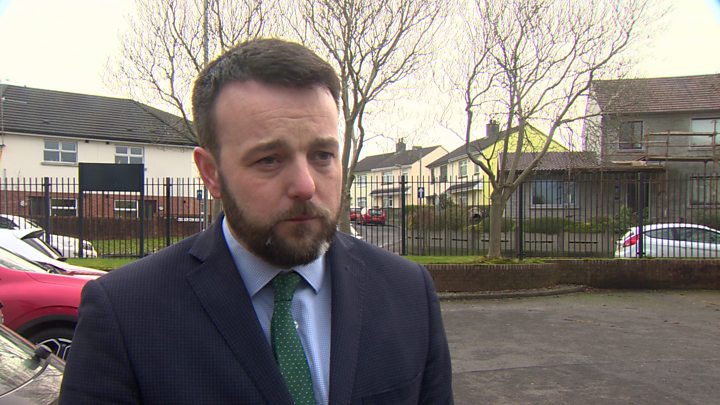 Claire Hanna has adopted a "confusing position" after deciding not to attend SDLP meetings at the Northern Ireland Assembly, the party leader has said.
The South Belfast MLA also quit as the party's Brexit spokesperson on Monday but will remain a member of the party.
Her decision was made in protest at the SDLP's partnership with Irish opposition party Fianna Fáil, which party members approved on Saturday.
SDLP leader Colum Eastwood said he was "very disappointed" by her decision.
Nearly 70% of party members at a special conference on Saturday - 121 people - voted in favour of the leadership's proposal for a link-up with Fianna Fáil.
Ms Hanna had been critical of the plan, saying that there was "no evidence" that the partnership would work.
'Membership made decision'
In a statement posted on Twitter on Monday, she said she had thought "long and hard" about the implication of the partnership.
"I remain unconvinced that an exclusive partnership with Fianna Fáil is the right vehicle with which to deliver the non-sectarian, transparent and social democratic new Ireland I believe in," she added.
"This hasn't been an easy decision."
Speaking to the BBC's Evening Extra programme, Mr Eastwood said Ms Hanna had been a "top-class Brexit spokesperson" but the party would "have to move on".
"The leadership did not make the decision [to link with Fianna Fáil] - the membership made the decision," he said.
"The position that Claire has adopted is a bit confusing - she might have withdrawn the whip from herself."
Mr Eastwood said that his "door is open" to Ms Hanna and any other members who were opposed to the Fianna Fáil deal.
But he refused to be drawn on how her status in the party would work in practice.
"I am not sure how all that would work....we have a whip system and people are to be held to account."
BBC News NI's political editor Mark Devenport said that whether Ms Hanna technically remained an SDLP MLA was "a bit of a grey area".