Firefighters rescue 'record' number of people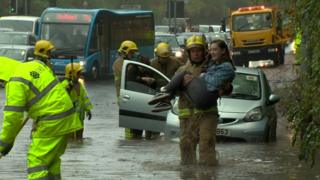 A record number of people were rescued by the fire service in Northern Ireland, according to the Fire Brigades Union.
Firefighters rescued 32 people per week between April 2017 and March 2018 - up 12% on the previous year.
More than 1,500 people were rescued from non-fire incidents, while 176 were rescued from fires, the union said.
Non-fire incidents include road traffic accidents, flooding, hazardous chemical spillages and lift rescues.
The fire service rescued 1,695 people in total in Northern Ireland in 2017/18.
That is a significant increase on the 2016/17 when 1,498 were rescued, 142 from fires.
That was down 3% from the previous year when 1,547 people were rescued, 138 from fires.
'Life-saving work'
The union said it compiled the figures via Freedom of Information requests, after the Westminster government stopped publishing the statistics in 1999.
Jim Quinn, from the union, said the role of firefighters had "vastly expanded".
"Firefighters are rescuing more people year-on-year, with non-fire incidents nearly outnumbering fire rescues tenfold," he said.
"These figures show that need for firefighters in all their roles is increasing and reveal the immense value of their life-saving work."
He explained that about one third of the 1,500 non-fire rescues were road crashes.
"Everyone does see the fire service turning out to car accidents and extracting people and helping rescue people, but there's a wide and varied range of calls which we attend," Mr Quinn told the BBC's Good Morning Ulster programme.
'Cats up trees'
"We have lots of issues on farms with slurry tanks and even farmers trying to rescue animals themselves and finding themselves getting into difficulty.
"We also have people trapped in machinery; people finding themselves trapped on roofs, up trees and the typical one is cats up trees."
He argued that such calls were important "because some people will try and rescue an animal themselves and put themselves in danger" whereas firefighters are equipped to respond safely to animal rescues.
Mr Quinn added that the overall number of calls received by the fire service has reduced, but he said some of that was "down to the good work of the fire service" in educating people about smoke alarms and chip pan fires.
Last year, the fire service warned that service response times could be affected by Brexit.
It said currency swings could affect its budget, and that fleet management - which depends on the import of vehicles from the EU - may also be at risk.