Man dies in Armagh house fire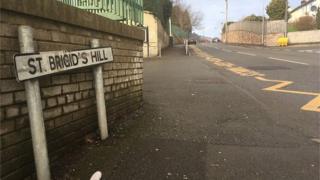 A man in his 50s has died following a house fire in the St Brigid's Hill area of Armagh.
The PSNI received a report of the fire at 16:00 BST on Thursday.
The man, whose name has not been released, died at the scene.
Police said the cause of the fire has not yet been determined and will be subject to investigation, in liaison with the Northern Ireland Fire and Rescue Service (NIFRS).
"We're at present still investigating the fire, but at this early stage we believe it to be accidental," NIFRS Group Cdr Victor Spence said.
"On arrival of the first crews, the fire had already burnt itself out. We believe it may have started around breakfast time, but again that's still under investigation
"On behalf of the Northern Ireland Fire and Rescue Service, I'd like to pass on our sympathies to the family."