NI paper review: Car crash tragedy and a 'defunct' NHS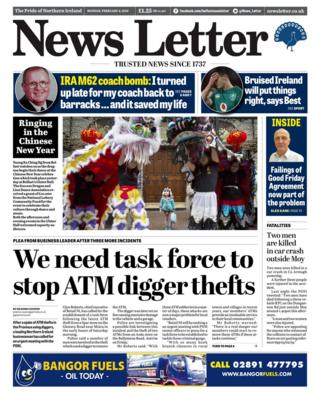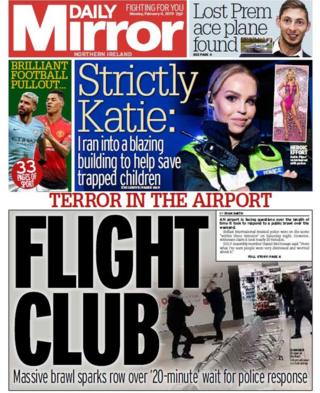 Three of Northern Ireland's main daily newspapers lead with stories or images of a car crash in County Tyrone which claimed the lives of two men.
A further three people were injured in the collision on Sunday.
The crash happened on the main road between Moy and Dungannon shortly after 13.30 GMT on Sunday.
Sinn Féin MP Michelle Gildernew told the Irish News that the crash has "shocked the entire community".
Elsewhere on the front page of the Irish News, a GP advises patients who can afford to do so to "go private" as the health system is "now defunct".
John McSparran, who is based in Cushendall in County Antrim, said the main political parties do not appear to be willing to go into government to tackle spiralling waiting lists.
Priest of peace process remembered
He cited the example of one of his patients, 90-year-old Danny Murphy, who has been on a waiting list for a hip replacement for four years.
Inside the paper, a priest described as one of the architects of the peace process has been remembered with a life-size wooden carving inspired by a photograph from the Troubles.
Fr Alec Reid, who died in 2013, acted as a go-between between the SDLP and republicans in attempts to bring about an IRA ceasefire.
A statue capturing Fr Reid giving the last rites to a soldier murdered in west Belfast in 1988 is on display in St Mary of the Rosary Church in Nenagh.
A warning of a different kind adorns the front page of the News Letter.
Glyn Roberts, the chief executive of Retail NI, has called for the establishment of a PSNI task force to deal with a spate of attacks on ATM cash machines across Northern Ireland.
It follows the latest incident on Saturday, in which a digger was used to remove an ATM at a Spar shop near Moira, after a similar theft the previous day at an ASDA store in Antrim.
Bus seat change 'saved my life'
Mr Roberts warned: "There is a real danger our members could start to remove these ATMs if these attacks continue."
Meanwhile, a Labour councillor recalls how turning up late for a coach carrying him back to his army barracks saved his life.
Tommy Judge was unable to get his preferred seat at the back of the vehicle taking servicemen and their families from Manchester back to Catterick barracks in February 1974.
During the journey, an IRA bomb exploded, killing a family of four who were in the back row.
"I got there late and was unable to do that (sit at the back) and that decision was probably to save my life. It is pure chance and good fortune," he tells the paper.
In the Belfast Telegraph, DUP leader Arlene Foster urged Prime Minister Theresa May to begin talks about alternatives to the backstop for the Irish border.
Writing inside the paper, Mrs Foster accused Sinn Féin of seeking to impede the Brexit process.
The DUP leader claimed a "no-deal exit appears to be integral to Sinn Féin's plans" for securing a border poll.
The paper also reports that 220 charities benefited from the annual Black Santa sit-out outside St Anne's Cathedral in Belfast.
The cheques ranging from £550 to £1,000 each were handed over in a special service at the cathedral on Sunday.
Questions raised after airport brawl
The charities will now share more than £168,000 raised during the week-long fundraiser before Christmas.
A brawl at Belfast International Airport adorns the front of the Daily Mirror.
The paper reports that the airport is facing questions over the length of time it took officials to intervene after a group of men fought in the departure lounge.
Men were seen attacking each other with metal poles and throwing objects as shocked passengers looked on during disturbances on Saturday.
SDLP MLA Daniel McCrossan told the paper he will raise the matter with the airport after concerns about what he described as the "inadequate response time" of security.
Meanwhile, some of Yorkshire's biggest soap stars descended on Belfast on Sunday for a spot of filming.
Crews from Emmerdale took up position at locations across the city, including outside Belfast City Hall.
Mark Charnock, better known as Marlon Dingle, was full of praise for the city and its people.
"People here are ace. They've made us feel so welcome," he said.