Tyrone: Two men who died in crash were from Slovakia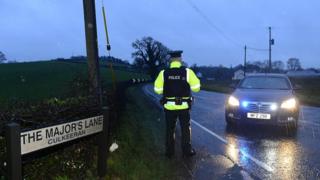 Two men who died following a three car collision in County Tyrone on Sunday were from Slovakia, a Sinn Féin MP has said.
It happened on the Dungannon Road near Moy at about 13:40 GMT on Sunday. The Northern Ireland Ambulance Service sent five crews to the scene.
The men were travelling in a Skoda Octavia.
Three people were taken to the Royal Victoria Hospital for treatment for serious injuries.
These included a woman, who was a passenger in the car in which the men died, and a man and another woman who were travelling in one of the other cars.
Two people who were in the third car did not require hospital treatment.
'Notorious'
Fermanagh and South Tyrone MP Michelle Gildernew said the local community was "shocked and saddened" by the loss of life.
Ms Gildernew said the accident happened on a "notorious" corner, and she would raise this with the Department of Infrastructure at a meeting later today.
She said she will be asking for extra safety measures to be implemented at the site.
Residents living beside the crash site has told the BBC something needs to be done as crashes are happening regularly.