Red panda cub escapee from Belfast Zoo found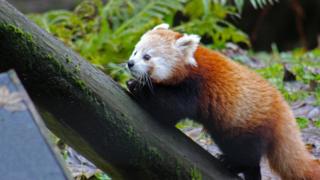 A rare red panda which escaped from Belfast Zoo has been found "safe and well".
Amber was discovered in a garden in Collinbridge, Newtownabbey, less than a mile from the zoo.
She had escaped from her enclosure on Sunday afternoon and was first sighted later that day at 17:30 GMT.
The cub, which was born in June and is now almost an adult size, was found on Monday after a spot of sightseeing in the city.
"We are pleased to report that Amber has been safely returned to Belfast Zoo after a short time exploring the local area," said the zoo's manager, Alyn Cairns.
"We would like to thank all of those involved in the search for our missing red panda. We received several calls from local residents who reported sightings which helped the search team to track its location."
'Fence fault'
Red pandas are an endangered species and slightly larger than a domestic cat.
Belfast Zoo has a family of four red pandas and the escapee received a full health check by the zoo vet as soon as she returned home.
"Amber is in good health but continues to be observed," the zoo's statement said.
The zoo's manager added that staff discovered "a power fault" in an electric fence in red panda habitat shortly after Amber went missing.
"Our maintenance team were informed at the earliest opportunity and the fence has since been repaired," Mr Cairns said.
"Safety and security of our animals is of paramount importance so we will continue to monitor this to ensure there are no further incidents."
Sightseeing
When the animal went missing, police said it was believed to be "taking in the sights of beautiful Glengormley".
They warned motorists to be vigilant as "our curious friend has not yet learned the green cross code".
While they are not aggressive by nature, they may be defensive when cornered.
Amber and her sister Autumn were born as a result of a breeding programme at the zoo in Cavehill, north Belfast. last June.
Their parents met after dad Chris was brought all the way from Beekse Bergen Safari Park in the Netherlands and mum Vixen came from Germany's Dresden Zoo.
The lesser panda?
The animal is native to the Himalayas in Bhutan, Southern China, Pakistan, India, Laos, Nepal and Burma.
It is also known as "lesser" panda or "firefox".
Red pandas spend most of their time in the trees - their sharp claws make them agile climbers and they use their long, striped tails for balance.
They feed mainly on bamboo but also fruit, eggs, small birds and insects.
The russet-coloured animals are mainly active from dusk to dawn.
They are rare and are classified as endangered by the International Union for the Conservation of Nature.