Drumbo Park: Greyhound stadium near Lisburn closes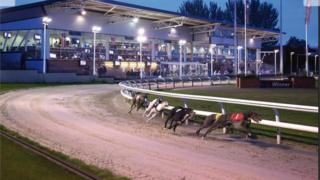 The directors of a greyhound stadium near Lisburn have said it has closed with immediate effect.
Fourteen full-time staff and 30 part-time staff at Drumbo Park in County Down were informed on Friday.
In a statement, the directors said numerous factors have combined to make the business unsustainable.
They added that "substantial resources" had been invested in an attempt to turn the business around but had been unsuccessful.
'Devastated'
Drumbo Park Greyhound Stadium was one of only two in Northern Ireland.
Speaking to BBC NI, director Michael McAdam said it was a "sad and very hard decision to make".
"Our staff are devastated, we've had people in tears here today," he said, adding that the reason behind the closure was primarily down to declining attendance.
"Over the past two years in particular, we've seen a major decline in people attending the both the restaurant and the live racing itself," he said.
Mr McAdam said that last weekend, despite subsequent efforts to cut overheads, the business recorded a £10,000 loss.
"There was no money left in the bank," he said.
He added that its problems were also related to "restrictive licensing laws".
"You can race on a Sunday, you can gamble on a Sunday, you can have a meal in our restaurant, but you can't have a glass of wine with it," he said.
"So that ruled out the opportunity to try and change our race pattern. It's just so frustrating - nobody wanted to help us."
A lack of government funding was also cited as a reason behind the closure.
Prize money
"In Northern Ireland, greyhound racing is not supported by anybody...while in the Irish republic greyhound racing is sponsored semi-state body," said Mr McAdam.
"In Drumbo, a winner of a smaller race would receive £120, whereas they can go to Dundalk and win €350 - we can't compete with that.
"But we're very grateful for the dedication of owners who kept coming to us," he said.
"We initially invested somewhere in the region of £3.5m to £4m to open the site, and over the past few years, the directors have provided an additional £300k to try and keep the lights on.
"All of these different factors, they all add up."
Mr McAdam suggested that more than 10 years on from the 2008 financial crash, its effects are still being felt in greyhound racing.
"The building sector, people who worked in it, were people who owned greyhounds. The first thing to go when they lost their jobs were the greyhounds themselves.
"The numbers of dogs available to race on a Friday and Saturday evening has been declining and it has become very difficult to fill a race card."
Lisburn Distillery Football Club, who use the stadium for matches, told BBC News NI in a statement that they could not comment further until they had received more information.
Mr McAdam said the closure would have "no impact whatsoever" for the club as it is a "standalone enterprise" which is "completely independent of us".