Cliftonville player Jay Donnelly jailed for four months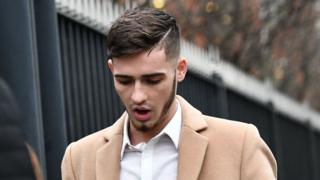 Irish League footballer Jay Donnelly has been sentenced to four months in prison for distributing an indecent image of a child.
The 23-year-old Cliftonville player, of Ardilea Drive in north Belfast, admitted the charge in December.
The judge said it was such a "gross invasion of privacy" that the only appropriate sentence was an immediate custodial sentence.
Donnelly has been granted bail pending appeal.
Cliftonville FC has said it will give "due consideration" to the judgement.
The footballer took a photograph of a 16-year-old girl while they were participating in a sexual act in June 2016.
The Public Prosecution Service said the girl asked for the picture to be deleted, although Donnelly's lawyer disputed that.
Donnelly sent the photograph to a friend and a WhatsApp group that included fellow Cliftonville players.
The photograph was then leaked and appeared on Facebook. A total of 11 people were said to have viewed the picture before it went viral.
'Shouted at in street'
The victim became aware of this in October 2016 when she said she began receiving abusive messages on Facebook and was shouted at in the street.
Donnelly's lawyer said his client had expressed great sorrow at the consequences of his actions and understood the "distress and embarrassment" suffered by the victim.
He said the footballer was "crushed" by what he had done.
"This was not a malicious act on his part, it was impetuous and stupid, a young man acting out in bravado and boasting to his friends," the barrister said.
"He never wanted this to be widely known to the public.
"He's acutely aware that as a result of his conduct his future at Cliftonville, and his future as a professional footballer in general, is in jeopardy."
'Gross invasion of privacy'
The court was told Donnelly has been assessed as having a borderline learning disability, with an IQ in the bottom 8% of the population.
However, the judge said: "What was shared was an image of a highly intimate nature, which depicted the very intimate parts of the injured party."
She said it was "inconceivable he would not recognise that this would then go viral, which is exactly what happened in this case".
The judge said the "gross invasion of privacy" was so serious it required a custodial sentence of four months.
Relatives of the player sobbed in the public gallery when the sentence was read out.
In a statement following the sentencing, Cliftonville FC said: "The judgement, as well as the outcome of the appeal, will be given due consideration by Cliftonville Football Club.
"The club are mindful of their duties and responsibilities and will continue to act on this basis."