EuroMillions: County Armagh couple win £115m jackpot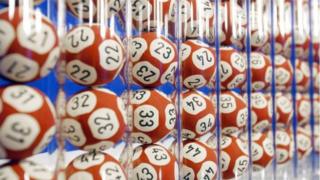 A couple from County Armagh has won almost £115m in a EuroMillions draw, it has been confirmed.
The pair's identities will be revealed at a press conference just outside Belfast on Friday morning.
The couple matched the winning numbers in the New Year's Day draw.
It is the fourth biggest UK EuroMillions win.
The winning numbers were 01, 08, 11, 25, 28, with Lucky Stars 04 and 06.
The biggest lottery prize in UK history is the £161m EuroMillions jackpot won by North Ayrshire couple Chris and Colin Weir in 2011.
'Shock and excitement'
Speaking to the BBC from the Culloden Hotel, where the press conference will take place at 10:00 GMT, Andy Carter, a winners advisor for the National Lottery, said its most important role is "looking after someone as they're going through a really life-changing experience".
"We make sure they have access to good legal advice and good financial advice, but it's primarily about supporting them through a period of both shock and excitement," he said.
Mr Carter explained that the decision on whether or not to go public about a win can be a difficult one.
"It's not right for everyone - you've got to consider what sort of person you are, what sort of family structure you have, how much you've won and are you able to hide it?
"The greatest advice is to take your time - do nothing quickly. Our advice is go away and have a holiday - take some time to really come to terms with it."
He added that past winners rarely make ostentatious purchases at an early stage.
"We often ask them what was your first purchase and they'll say the toilet seat was broken or the kettle wasn't working. Nothing surprises us!"
'Amazing news'
Julie Flaherty, Lord Mayor of Armagh City, Banbridge and Craigavon Borough Council, told the BBC's Good Morning Ulster programme that the news had caused huge excitement in the area.
"It's amazing news for this couple. We always knew we were lucky to live in the Orchard County and now it's been proven! It gives everybody a wee bit of hope," she said.
"Hopefully they're a good, grounded family with plenty of people around to support them and they'll be able to do some good with it."
Past winners
Northern Ireland has a history of big wins.
In December 2013, an unemployed woman from Strabane, County Tyrone, won almost £27m in the EuroMillions lottery.
At the time, Margaret Loughrey said that on the day she bought the ticket, she had been to the job market to get an application form for a job with a charity.
In 2004, a cancer patient from Belfast became the biggest ever winner of the UK's National Lottery.
Iris Jeffrey scooped £20.1m with a ticket she bought on 14 July but only realised she had hit the jackpot the following month after hearing an appeal by lottery organisers Camelot.
EuroMillions is played in nine countries - the UK, Austria, Belgium, France, Ireland, Luxembourg, Portugal, Spain and Switzerland - with ticket-holders trying to win a share of the same jackpot.