NI Paper Review: Intimidation, policing and SDLP blues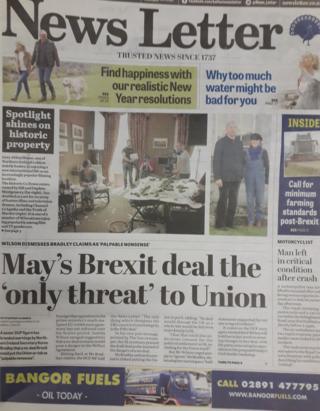 The Irish News Front page story covers the funeral of Patsy Gildernew in County Tyrone.
Mr Gildernew, who was 72, died on Sunday.
He was well known for his role in a protest held in Caledon in 1968 against what was seen as anti-Catholic bias in the distribution of housing.
The Caledon protest is seen an important event in the history of the Northern Ireland civil rights movement.
The Irish News also continues its coverage of "merger" plans between Fianna Fáil and the SDLP.
SDLP MLA Claire Hanna told the paper that party members only heard of the proposed alliance through the media.
Many SDLP members are opposed to the Fianna Fáil "takeover", she says.
The Belfast Telegraph reports that the party's leadership sent an email to members to tell them the talks with Fianna Fáil have been sanctioned.
The email urges the membership to stretch themselves "beyond their comfort zones".
The Belfast Telegraph's front page splash tells us that 2,000 households were forced out of their homes between April 2015 and October 2018.
Paramilitaries are blamed for 73% of these cases.
Eight households a week presented themselves as homeless due to threats in 2017/18, the Belfast Telegraph reveals.
The Daily Mirror reveals that the "defunct Northern Ireland Assembly" spends £360,000 on policing services.
Despite not having sat since January 2017 a police presence continues at Stormont.
The permanent police attendance was sparked by an attempted attack on politicians by loyalist Michael Stone in 2006.
The information was revealed to the Daily Mirror in a freedom of information request.
'Palpable nonsense'
The News Letter takes us back to Brexit and its potential, or not, to harm the union.
DUP MP Sammy Wilson says warnings from the Northern Ireland Secretary Karen Bradley that a no-deal Brexit could put the union at risk is "palpable nonsense", the paper reports.
Mr Wilson's says the "only thing which threatens the UK's constitutional integrity" is Prime Minister Theresa May's draft Brexit deal.
He urges voters to "ignore" Ms Bradley.
'How did it come to this?'
South Belfast DUP MLA Christopher Stalford uses his chance in the Belfast Telegraph's opinion pages to speak out about drug use in Belfast.
Sparked by seeing someone smoke cannabis openly in the city, Mr Stalford rails against drug use, warning against the use of "soft drugs".
"Some will say it is a fight that cannot be won," he writes.
"I don't agree. I think we have an obligation to start pushing back against this rising tide."
In the Irish News, Alison Morris in an opinion piece asks what Northern Ireland is missing with the absence of a functioning executive?
Her conclusion seems to be: "Not a lot".