Monsignor Larry Duffy named as new bishop of Clogher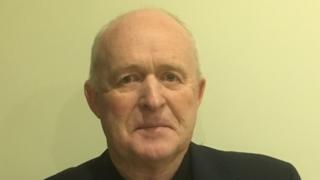 Pope Francis has appointed Monsignor Larry Duffy as the new Bishop of Clogher.
Since 2013, bishop-elect Larry Duffy has been parish priest of Carrickmacross in County Monaghan.
Father Duffy had previously served in various parishes of the diocese of Clogher including Enniskillen, Clones and Carrickmacross.
The diocese covers County Monaghan, most of Fermanagh and some of Tyrone, Donegal, Cavan and Louth.
The head of Ireland's Catholic Church, Archbishop Eamon Martin, said Fr Duffy would "bring a wealth of pastoral experience having ministered in various parishes - both north and south - in the diocese".
"As Clogher is one of our neighbouring dioceses within the metropolitan province of Armagh, I personally look forward to working very closely with him at a local level," he added.
"I have no doubt that bishop-elect Larry will also bring his keen sense of pastoral priorities to bear on our discussions at the Bishops' Conference, including the benefit of experience and wider perspective gained during his missionary placement in Kenya. "
He will take over from Bishop Liam MacDaid, who retired in October 2016 on health grounds after six years in the job.
Monsignor Joseph McGuinness had been acting as diocesan administrator in the interim.