Karen Bradley pens Brexit assurance letter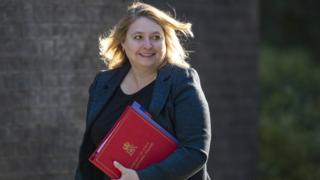 Karen Bradley says Theresa May's EU withdrawal agreement is not a threat to the integrity of the UK or to the rights of people in Northern Ireland.
The secretary of state has expressed her views in an open letter.
It has been released four days ahead of a crucial parliamentary vote on the Brexit deal.
The letter says the prime minister's agreement will protect the constitutional integrity of the UK and will protect jobs and investments.
It also says it will ensure the UK leaves both the Common Agricultural Policy and the Common Fisheries Policy.
Finally, it says the withdrawal agreement will take back control of the UK's borders, money and laws.
In her letter, Mrs Bradley argues that the government has secured an outcome which avoids both a hard border on the island of Ireland and a customs border down the Irish Sea.
However, the Democratic Unionist Party's deputy leader Nigel Dodds has continued to insist the government's deal does not represent the best of both worlds for Northern Ireland.
Mr Dodds says if ratified the deal would be an international legally-binding treaty, which would place a customs and regulatory border between Northern Ireland and Great Britain contrary to previous pledges from Prime Minister Theresa May.
The DUP's 10 MPs appear certain to vote against the deal on Tuesday.
However, North Down independent unionist MP Lady Sylvia Hermon is expected to back the prime minister.
Sinn Féin has indicated its support for the Northern Ireland protocol or backstop contained in the deal.
However its seven MPs do not take their seats so they will not play an active role in Tuesday's vote.
The SDLP, Alliance and the Greens have all backed the backstop, while the Ulster Unionists and Traditional Unionists are opposed.
None of these smaller Stormont parties are represented in the House of Commons.