Counselling for Belfast pupils at fatal shooting school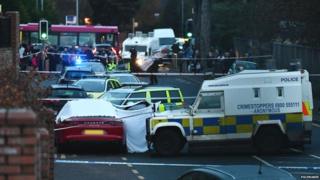 A number of teachers and pupils at St Mary's Christian Brothers Grammar School have had counselling following a fatal shooting at the school gate.
Jim Donegan was killed while waiting to pick up his 13-year-old son - a pupil a St Mary's - on Tuesday.
On Friday, pupils held a Christmas lunch for residents from two hostels for the homeless.
Senior teacher Raymond Herron said they had debated whether to proceed with the event before going ahead.
"I have to admit that it did form part of a discussion," he said.
"And the discussion was 'are we OK to make sure this goes ahead?'
"The boys in the social justice advocacy group have been planning all year.
"They've been collecting wrapped up gifts to give to the residents."
On Tuesday, some teachers had covered Mr Donegan's car in blankets so pupils could not see the murder scene.
Mr Herron said counselling had been made available to pupils and staff.
"There were formal counselling sessions available on the return to school for boys who were immediately impacted by the events of Tuesday," he said.
"There were also drop-in centres within the school where we had staff who were trained in listening and support to allow the boys just to come and talk about their feelings and emotions.
"There were a number of students who were impacted more than others and obviously their long-term well-being is something the school is focused on, working with external agencies when and where needed."
St Mary's has taught its pupils about the problem of homelessness for a number of years.
As a result, it was recently chosen by the Council for Curriculum, Examinations and Assessment (CCEA) to launch new resources for schools about the issue.
Boys from the school served lunch to a number of homeless people and ate dinner alongside them.
One of those who came to the school was Billy, who lives in a hostel.
"Christmas is supposed to be a time for family," he said.
"If I had my own flat I could have my family round but in the hostel you can't.
"You're sharing with a load of people and it's not the same sense of family or Christmas spirit."
Chris had also accepted the invitation to the lunch from the St Mary's pupils, and he felt it was important that they hear from people like him.
"The younger generation - with all the cutbacks and the way things are going - need to be educated in things like this," he said.
"At the end of the day, one turn round the corner and they could be in the same boat.
"There's a nice atmosphere here, you can feel it."
Pupil Tiernan O'Flaherty, from the school's social justice advocacy group, felt he had learned some important lessons from the event.
"People are walking past them in the streets, treating them like nothing," he said.
"If you actually sit down and speak to them, you'll learn that they have a life story, they have a family.
"It's just been one issue that has led to them being homeless.
"Homelessness doesn't make them who they are - they are a person."