Child killer Black died from heart attack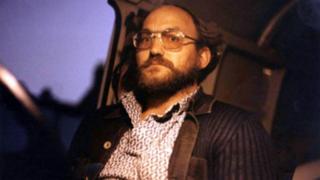 An inquest into the death of a serial child killer has found he died after a heart attack caused by age, lifestyle, high blood pressure and diabetes.
Robert Black, 68, died in Maghaberry Prison in January 2016. He suffered the heart attack while moving cell.
He was sentenced to life imprisonment in 2011 for the murder of County Antrim schoolgirl Jennifer Cardy in 1981.
Black was already serving life sentences for the murders of three girls.
They were Sarah Harper, 10, from Leeds, Susan Maxwell, 11, from Northumberland, and Caroline Hogg, five, from Edinburgh.
None of Black's family members could be traced by the Coroner's Service, so no relatives were in court in Armagh for the inquest.
Weeks after his death Black was cremated and his ashes were scattered at sea, after prison authorities in Northern Ireland revealed no-one wanted his remains.
For 51 years, Black regularly smoked 25g of hand-rolled tobacco, a doctor told his inquest.
'Cardiovascular event'
GP Dr Joseph Palmer said that he was at risk of having a "cardiovascular event" like a stroke, heart attack or deep vein thrombosis.
"He also said that he was a smoker not interested in stopping smoking, [so] that risk would have increased," said Dr Palmer.
He had also been diagnosed with type two diabetes, which increases the risk of a heart attack.
The doctor also said he did not exercise enough.