Lee Smyth: Christopher Meli murder accused refused bail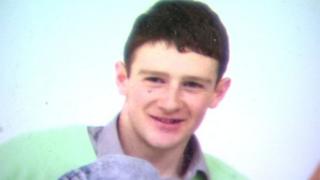 A 21-year-old murder suspect whose bail was revoked after he was arrested in Boots less than an hour after appearing in court will remain in custody.
A judge at Belfast Crown Court refused a fresh application to release Lee Smyth on bail.
He is one of a number of people charged with murdering Christopher Meli, 20.
Belfast Crown Court heard Mr Smyth had notched up "over a dozen breaches of bail".
Mr Meli was beaten to death in the Twinbrook area of west Belfast in December 2015.
Previously, Mr Smyth, with a bail address outside Belfast that cannot be published, had been granted bail with a number of strict conditions imposed.
Arrested in Boots
In November, his legal team made a successful application to have his curfew varied to allow him to take up seasonal employment throughout December.
The application was granted on 22 November to allow Mr Smyth to work.
However, less than an hour after leaving court, Mr Smyth was arrested in Boots on suspicion of stealing gift sets.
He was back in court the following day, when the judge revoked his bail and he was sent to Maghaberry Prison.
During the latest bail hearing, which Mr Smyth attended via video link, his solicitor said the two weeks his client had spent in Maghaberry had been a "sobering lesson".
The lawyer noted that as no trial date has yet been fixed, Mr Smyth was now "in limbo" and added: "Because there is no trial in the immediate future, Mr Smyth should be allowed the option to renew a bail application."
'Nothing has changed'
Opposing his release, a prosecution lawyer said that the last time he left court, Mr Smyth was arrested shortly after the curfew variation was granted.
The lawyer also told the court there had been "a plethora of over a dozen breaches" of bail.
The judge noted that after Mr Smyth's last appearance in court "within half an hour of that he was arrested".
"In the circumstances, I was satisfied there was a prima facie case and I revoked his bail," he added.
"Nothing has changed since I revoked bail two weeks ago. I therefore refuse the application."