O2 refund 'prank' leads to PSNI warning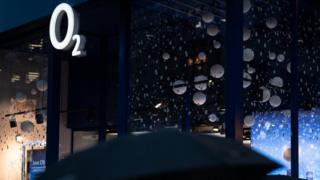 Police have warned of a "social media prank" targeting customers of mobile operator O2 that directs them through to the emergency 999 operator.
Tens of millions of people around the world were affected by disruption to O2's data services on Thursday.
Some of them - particularly people who said they had lost out on work - have said they should be compensated for the outage.
However, the PSNI has taken to Twitter over a fake refund offer.
'Don't ring it'
"Apparently there is something circulating on social media advising O2 customers to ring 141999 to get a refund after the data issues yesterday," police said.
"This is a prank and will put you through to the emergency operator."
They ended the tweet with a plea: "Please don't ring it."
Police would not comment on how many people had dialled through to the emergency line as a result of the "prank".
O2 and mobile network equipment supplier Ericsson have issued a joint apology to the millions of customers hit by the disruption.
"I want to let our customers know how sorry I am for the impact our network data issue has had on them, and reassure them that our teams, together with Ericsson, are doing everything we can," said O2 boss Mark Evans.
"We fully appreciate it's been a poor experience and we are really sorry."