Blackhead Path: Green light for restoration works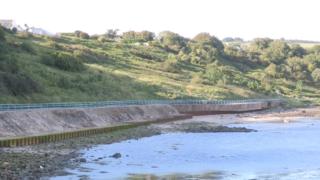 Planning permission for works to restore a popular County Antrim coastal path has been granted by Mid and East Antrim Borough Council.
The Blackhead Path in Whitehead was closed in August after an engineers' report found that it was at risk of collapsing.
The council said the "multi-million pound project will see repair works carried out over a year".
It said a list of contractors is being drawn up for the tender.
This is expected to "go live" in January.
The council said the restoration will include repairs along the coastal paths from the Old Castle Road up to the lighthouse, as well as new steps and handrails.
It said work to restore the "golden steps" is already under way and is "due to be finished by the end of the month".
'Collapse of bridge'
Lindsay Millar, the mayor for Mid and East Antrim, said the council was delighted to be announcing that the project had "got the green light".
"Everything is progressing really well and to schedule," she said.
"After many years of neglect, we now have the support of elected members to get the essential repair works under way.
"We are extremely keen to reopen the path so it can be enjoyed by our local community and tourists."
Ms Millar said the council would continue "to work closely with residents and the local community, including Blackhead Path Preservation Society, to get the path open as soon as possible".
The council said new fencing and signs "highlighting the dangers of the collapsing path area are now in place to prevent the public from getting on to the dangerous areas".
"The recent bad weather saw more rock fall along the path, the collapse of the bridge along the upper path and further movement of 30mm," Ms Milllar added.
She said the safety of users is the council's priority.
"We would ask any users to respect the signs and gates in place," Ms Millar said.
"We appreciate the community's patience and understanding throughout this process.
"We understand and appreciate that this will be frustrating for those who enjoy this outstanding coastal path, but given the seriousness of the situation we don't want any tragedies."
The council said it hopes that, weather permitting, work can start on the path by spring after contractors have been appointed.