Sinn Féin selects Barry McElduff for council election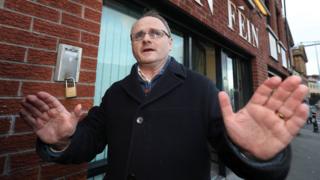 Former Sinn Féin West Tyrone MP Barry McElduff, who stood down after posting a controversial video on Twitter, is to stand in next year's council election.
He resigned his Westminster seat in January after he was accused of mocking victims of the Kingsmills massacre.
He maintained that the video - in which he had a loaf of Kingsmill bread on his head - was meant as a joke.
On Thursday, he tweeted that he would be running for a seat on Fermanagh and Omagh District Council next May.
The video that led to his resignation was posted on the 42nd anniversary of the Kingsmills attack, in which 10 Protestant workmen were murdered.
Mr McElduff apologised but the sole survivor of the shootings said he would not accept it.
In November, the Public Prosecution Service said it would not prosecute Mr McElduff over the video.
'Strongly encouraged'
The former MP told the BBC's Talkback programme he had been strongly encouraged to stand in recent months both by Sinn Féin party members and other people around him.
"If I'm being 100% honest here there is a kind of sigh of relief in republicanism and nationalism that someone who has tried their best to act with dignity and integrity in a very difficult situation has done his best," Mr McElduff said.
He added that the video had been intended as a bit of levity and that he had been unaware that it was the anniversary.
"I did that before with other food-related products," he said.
The sole survivor of the massacre, Alan Black, said he had no problem with Mr McElduff standing in the council elections but added that he would never accept his apology.
Mr Black said there had been an in-joke in republican circles "where this fella went in and bought a loaf of bread and he had to complain because 10 of the slices were toast".
He told the BBC this had been "awful hard to take" - not just for him but for all the victims' families.